Real Estate Investment Opportunities in 2021
by UPN
March 14, 2021
0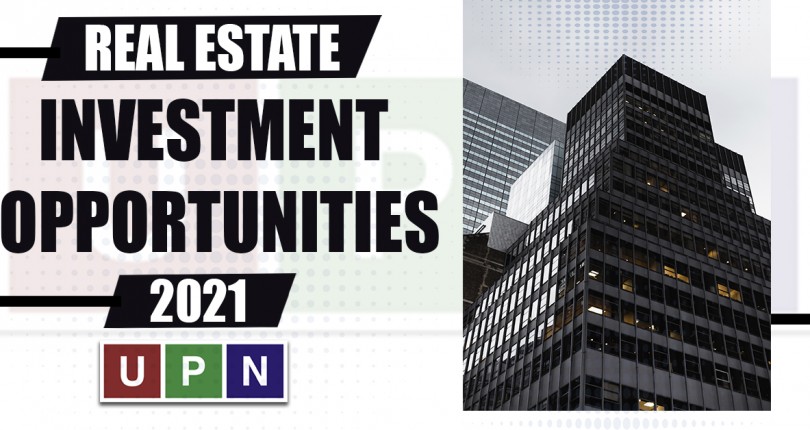 Pakistan, the real estate sector attracts millions of people to invest in several properties. Buyers from Pakistan and a large number of Overseas Pakistanis also do invest in the property sector. The real estate sector of our country is considered one of the most profitable and secure investment options. However, investment in properties in Pakistan is not a piece of cake. In 2021. a wide range of properties and investment opportunities are available in the real estate sector.
But, choosing the right property is very much important to make your investment successful. Different factors involved in it, such as the property's location, your purpose of investment and budget. Today in this latest write-up, we will discuss Pakistan's four major cities' overall investment opportunities.
Let's explore the details together!
Investment Opportunities in Gwadar
Gwadar, which will be the next Dubai, has a wide range of real estate investment opportunities. The master plan of Gwadar is finalized and approved. Many housing societies were launched in 2014, 2015, and 2016 that are growing well. These housing projects have several properties for sale, mostly available in installments.
But buying in these properties is can be only beneficial in the long-run. These are long-term investment opportunities. So, the suggestion percentage for investment in the real estate of Gwadar is 10%.
Investment Opportunities in Karachi
Karachi is the biggest city of Pakistan, also known as a land of opportunities. It has many societies and areas that you can consider for real estate investment. But, the entire real estate market of Karachi surrounds Bahria Town Karachi and DHA Karachi. These are the two mega projects with countless attractive and profitable properties. Not only Pakistanis but Overseas Pakistanis also invest in these two projects.
These societies have the best properties for sale in both the residential and commercial categories. You can choose plots, shops, apartments and investment in multi-purpose projects.
The properties for sale in Bahria Town, especially the high-rise projects have bookings starts from 2 lacs to 30 lacs. Similarly, the prices of properties in DHA Karachi is high and have huge potential.
Investment Opportunities in Islamabad
Islamabad is the Capital City of Pakistan. It is popular as the most peaceful and beautiful city in the county. Both investors and buyers prefer investing in the properties for sale in Islamabad.
Again here, Bahria Town is the top housing project with lots of investment opportunities in Islamabad. Previously, society has not gained so much popularity because of the far location from the main city centres. But, the development of Ring Road Rawalpindi is all set to change the whole game.
Once the Ring Road Rawalpindi project completes the development work, both the twin cities will be on your 25 to 30 minutes drive.
Currently, Bahria Town Phase 8 Rawalpindi has become the best choices to invest in Islamabad. It has a large number of high-standard projects where a lot of investment opportunities are available. Most of these projects are located in the surroundings of the Statue of Liberty. These are under-development projects, but between 2023 and 2024, properties' prices will increase to millions.
So, if you want to gain huge returns, make the decision timely.
Investment Opportunities in Lahore
It is the second biggest city in Pakistan. Lahore real estate has many opportunities to choose from. However, the trend and demand for hotels and apartments increase over the last 2, 3 years. Many multi-purpose/high-rise projects are launched in Lahore, where you can invest in shops and apartments.
The main purpose of buying/offering apartments is to enjoy luxurious living facilities without running out of your budget.
For example, you want to live in Bahria Town Lahore or DHA Lahore and looking for a house in it. But a well-developed house of 5 or 10 Marla will cost you around 2, 3 crores. But the two bed or three-bedroom apartments in the same locality will cost you less.
So, by considering a high-rise project, you will not only fulfil your needs but will also save millions.
While summing up all these details, we conclude that the most profitable investment opportunities are available for you in the real estate sector. You can choose any one of these four major cities as per your needs and requirements.
Contact Universal Property Network for further details!