Zameen Expo Islamabad 2018 Launch Date and Exhibitors Details
by UPN
February 22, 2018
0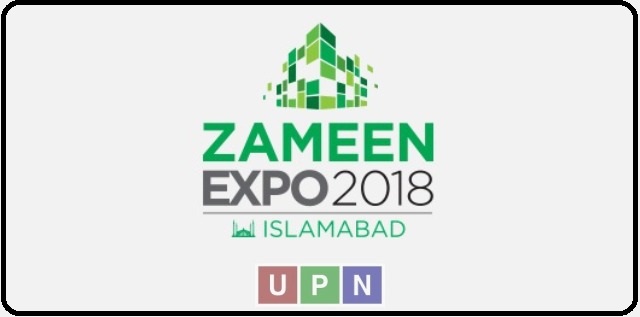 Zameen Media Private Limited is headed to capital of the country for conducting Zameen Expo Islamabad 2018. After successful expos in past 2 months in 2 largest cities of Pakistan (Karachi and Lahore), Zameen Expo Islamabad 2018 will be held at Pakistan China Friendship Center. The property expo will be a 2 day event like events in Karachi and Lahore. Islamabad Expo 2018 will kick off from 10 AM on March 3, 2018 and will conclude next day at 8 PM on March 4, 2018.
Zameen Expo Islamabad 2018 Details
Nearly 70 real estate companies, developers and land development firms will be taking part in Zameen Expo Islamabad 2018. Like all Zameen Property Expos, entry will be free and several family friendly facilities will be provided to attract more and more family to the grand event. Real estate projects from not only Capital city will be part of the expo but developers from all over Pakistan will be present at the property expo. This Zameen Expo Islamabad 2018 will be a golden opportunity for buyers who are interested in Gwadar real estate, as many projects from CPEC hub city will be present in the expo as well.
Montviro by Irtifa Group is Titanium Sponsor of Zameen Expo Islamabad 2018 with Property Time Real Estate Advisor stepping in as Platinum sponsor of the property expo. Some of the projects and developers that will be present in the expo include:
·         Madina Mall & Residency
·         Warda Hamna
·         Win Win Associates
·         S.A. Group
Each Zameen Property Expo is just not a platform where potential buyers can buy property but there are several special offers and discounts available at these property events as well. Real estate developers offered some amazing discounts at Zameen Expo Lahore 2018 and same can be expected in Zameen Expo Islamabad 2018.
For further updates regarding Zameen Expo or to read timely updates regarding real estate sector of Pakistan, please sign up for our free newsletter.