250 Sq Yards Plots in Bahria Town Karachi – Best Precincts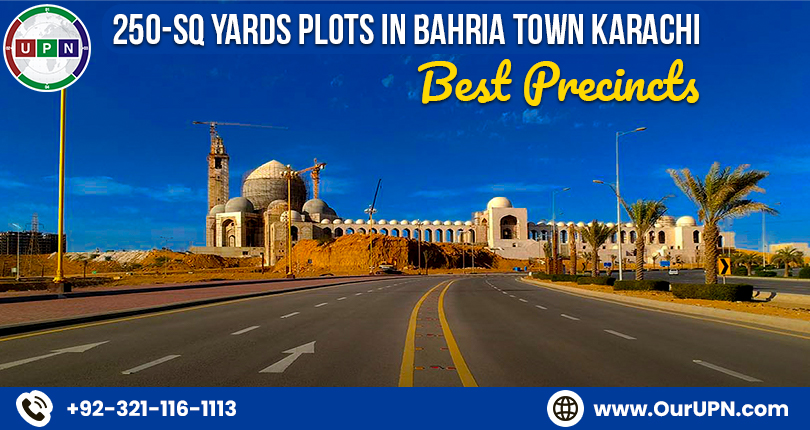 Are you in search of the best investment opportunity in Bahria Town Karachi? Do you want to invest in the ideal 250 sq yards plots in Bahria Town Karachi, where residency will be full of joys? Then, what are you still waiting for? Buy your desired plots at the prime location of this mega housing venture by contacting UPN!
Bahria Town Karachi is always a first choice to buy 250 sq yards plots in the city of light. The reason is the state-of-the-art planning, modern development and countless amenities. It would be nothing wrong to say that Bahria Town is a place where everyone desires to live. Also, this beautiful society offers a variety of options to feed the needs of today's buyers and investors. All of its properties are good to consider. But 250 sq yards plots holds significant importance as these are ideal for residence and construction purposes.
250 Sq Yards Plots in Bahria Town Karachi
In this latest blog post, we bring you the details of the top three precincts of Bahria Town Karachi, where buying in 250 sq yards plots is 100% recommended. So, without any delay, let's begin the discussion below:
Precinct 6
It is one of the beautiful precincts of Bahria Town. This precinct is wholly developed with 250 sq yards plots in Bahria Town Karachi. Plots are on-ground, have possession while the percentage of construction is increasing rapidly. These attractive plots in Precinct 6 are available in the price bracket of 1.10 crores to 1.40 crores. General plots, as well as category plots, can be purchased confidently.
Located at a distance of 4 KM from the main entrance of Bahria Town Karachi, Precinct 6 have a prime location. This precinct is actually situated opposite Midway Commercial, where Bahria Town Head Office is operational gracefully. Also, this precinct is near to Grand Jamia Mosque and Bahria Hills. Other nearby locations include Bahria Town Hospital, beautiful parks, schools, and a food court.
Precinct 8
This precinct's developmental work is complete. Featuring the ideal plots of 250 sq yards, Precinct 8 is an appealing choice for residence. This precinct also holds importance for many reasons, including prime location and impressive construction. More than 50% of this precinct has construction, and families live happily. At the same time, all the living amenities are available, making it a complete housing place in Karachi.
The latest prices of Precinct 8 250 sq yards plots are starting from 1.15 crores to 1.40 crores. It has always been noticed that the prices of plots in Precinct 6 and Precinct 8 are the same because of the same location and development status.
Precinct 8 is located at the prime location in Bahria Town Karachi. It is opposite Precinct 6 and close to Grand Jamia Mosque and Bahria Heights. Some of the other nearby attractions/developments include Precinct 10A Villas, Precinct 11A and Bahria Golf City Karachi.
Precinct 16
This impressive development, Precinct 16, is located perfectly. Precinct 16 also have impressive development work. It has levelled plots, and all are on-ground. All these plots are available with possession. The 250 sq yards plots in Bahria Town Karachi are truly beneficial in Precinct 16.
The starting prices of plots are 1.05 crores to 1.45 crores. The prices of plots are different as per the location.
 It is located in proximity to Grand Jamia Mosque. It is actually located on the right side of the third-largest mosque in the world. This precinct is on Main Jinnah Avenue. Moreover, the surroundings of this precinct are attractive as Paragon Towers, Precinct 47 and Bahria Paradise main entrance.
Conclusion:
If you really desire to get something best to construct your dream house on 250 sq yards plots, Precinct 6, Precinct 8 and Precinct 16 can be a perfect choice for you. These plots have a prime location and, most importantly, have good construction in the surroundings. In addition, living amenities are provided, which further boosts the value of plots and villas available in them.
Universal Property Network highly recommends buying in these precincts for residential and construction purposes. Contact us for further details!
Please contact Universal Property Network For More Information click here or visit our youtube channel further assistance