Bahria Greens New Deal – Best Investment in Bahria Town Karachi
by UPN
January 10, 2022
0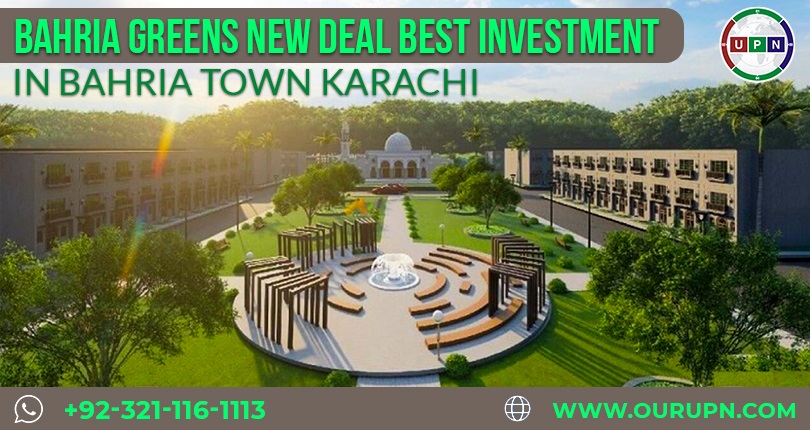 Bahria Town Karachi is home to investment opportunities for real estate investors. This society is full of options offering a wide range of properties for sale. Bahria Town is designed with four sub-projects, among which Bahria Greens is the most recent one. It is a state-of-the-art development, a whole society within the society. It's a new gated community offering modern-day living amenities and profitable investment chances. Moreover, Bahria Greens new deal is also launched, offering investors a lucrative opportunity to invest and earn well. Further details are:
Bahria Greens New Deal – Details
This appealing project Bahria Greens is undoubted the only place in Bahria Town Karachi with 75 sq yards residential plots. At the same time, it's the first project where Bahria Town allows ground + 2 floors. Bahria Greens was launched around 1.5 years ago, offering these plots at reasonable prices. However, Bahria Greens new deal brings another chance of beneficial investment. It features:
75 Sq Yards Residential Plots
The launching prices of the plots are 22 lacs. Booking starts with 11 lacs, and the remaining 11 lacs will be payable after 2 months. Also, some of the profit amounts will be payable at the time of booking. Moreover, the own amount on the plot varies as per the location. These are open form plots which means you will be the first owner of your plot. No transfer fees or any extra charges. Before discussing the reasons to invest in this new deal, let's have an overview of the location.
Bahria Greens Location
The location of any project plays a vital role in its success. Unfortunately, Bahria Greens location is not close to Bahria Town's main gate. But it is developing into a big community with huge infrastructure and opportunities. It will be complete society within the mega project Bahria Town. Bahria Greens is perfectly growing near Bahria Sports City. Yes, Bahria Greens Karachi is located close to Rafi Cricket Stadium, one of Bahria Town's major landmarks.
Bahria Greens location is at the back of Precinct 37. The distance of Bahria Greens from Eiffel Tower and Bahria Sports City is around 12 – 14 KM. Undoubtedly, its location looks far, but it is easily accessible.
Reasons to Invest in Bahria Greens New Deal
There are several reasons to buy the plots of 75 sq yards in Bahria Greens. However, at the top of the list is the affordable rates and the speedy development. Yes, the development work of this project is going on smoothly. Road development, the work on green belts, including other essential amenities, is under process.
Bahria Greens new deal is offering reasonable price plots. These are not files but on-ground plots available with plot numbers. The first deal of Bahria Greens was launched on 16.75 lacs. Its booking prices were 10% and remaining in 4 years. Almost 10 of its installments are paid, and 10 are remaining.
The prices detail for the Bahria Greens plots are:
Plot Size                          Total Price           Down Payment     16 Installments (Every 3 Months)
3 Marla (75 Sq yard)     16,75,000             2,95,000               86,250
The new deal of plots offers plots on the lump-sum amount, but it is still attractive than buying it on installments. The return on these Bahria Greens plots will be high. According to the market analysis, the same plots will be available in the bracket of 32 -33 lacs by the next 2-2.5 years.
Buying in Bahria Greens plots is equally good for investment growth. But buyers will surely enjoy residence there. Bahria Town's permission to construct ground + 2 floors houses with 4-beds accommodation, making it a complete package.
So, do buy your plot in Bahria Greens new deal before the profit amount goes high!
Please contact Universal Property Network For More Information click here or visit our youtube channel further assistance