Bigger Size of 1000 Sq. Yards Plots At Minimum Prices in Precinct 7 – Latest Details & Prices
by UPN
February 9, 2019
0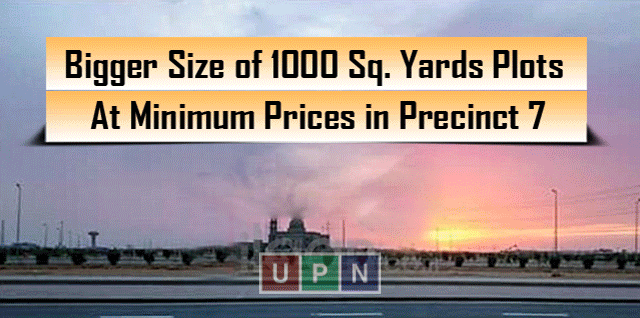 Bahria Town Karachi is a master-planned housing community with all the world-class features and facilities that a man can imagine in his surroundings. This is the only one luxurious and the largest housing project will wonders of the world monuments such as Eiffel Tower, Taj Mahal, Dancing Fountain and Statue of Liberty. Bahria Town Karachi a beautiful housing plan that is provided with 100% electricity backup and advanced security and rescue as well.
With having so many facilities and up-to-date amenities, buying a residential plot in it is the dream of every house maker. As it is comprised of many precincts, the one that catches the attention of investors with its complete development and available possession is the Precinct 7. This precinct is all comprised of 1000 Sq. yards plots in it. Further details of Precinct 7, including the latest prices of plots, are given below.
Location Overview & Attractions
Precinct 7 is located at the difference of some kilometers from the Main Entrance of the Bahria Town. It is easily accessible from the Main Super Highway. The attractive location of Precinct 7 and easy approach makes it's a top choice to invest your money in Bahria Town Karachi.
If we discuss its attractions, it is placed close to the State of the Art buildings of Bahria Height. Grand Jamia Mosque, Old Commercial, Midway Commercials, Gold Class Cinema, International Hospital, Completely Operational Food Court and Parks are located close to it.
Updated Prices & Details
Precinct 7 holds a significant position in Bahria Town. Basically, the plot cuttings of 1000 sq. yards are available in it. The number of plots designed in this precinct is almost 450.
These plots of 1000 sq. yards were launched at the price of 86 Lacs on 16 installments. Now the recent updates have confirmed that there is an own price of 85 lac to 1 crore on this 1000 sq. yards plots of Precinct 7.
Luxurious Residence in Peaceful Atmosphere
This precinct is all comprised of large plots. These bigger sizes of plots are providing you the best opportunity to make your dream came true by constructing a luxurious residence in it. Making investment and buying the plot in Precinct 7 will be a real beacon of luxury and world-class facilities that is not possible for you to get in any other housing plan. The continuous power, water, and gas supply, as well as the advanced security and rescue, gated community, school, university, family parks, and International hospital, are really waiting for you to serve you something more than you can imagine.
Universal Property Network is the trusted name in Real Estate Market of Pakistan. We daily deal with thousands of satisfied clients and always here to assist you with the best deals and available properties in different well-known housing societies of the country.