DHA Quetta Early Bird Balloting Date Announced – Big News
by UPN
March 12, 2022
0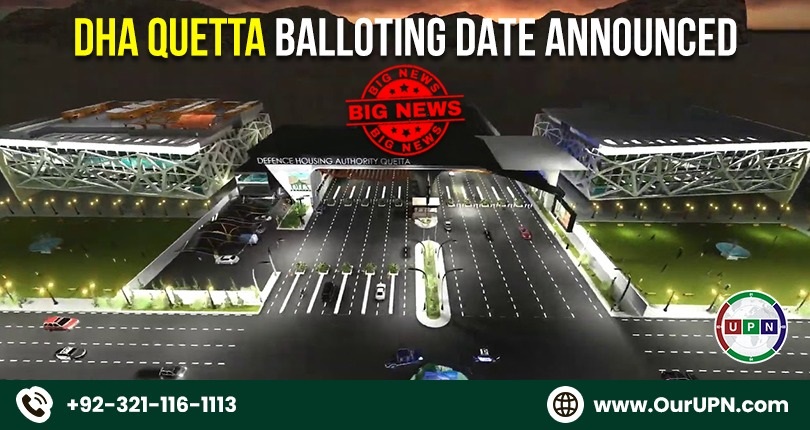 DHA Quetta Early Bird Balloting date is finally announced. It's big news, one of the major announcements by the management of DHA Quetta. First of all, congratulation to all the file holders of Early Bird and 5 Marla Marketing files as the location ballot will take place soon.
DHA Quetta Early Bird Balloting Date
The location ballot date for the files of Early Bird and 5 Marla Marketing will take place on 30th March 2022. The number of allocation files included in the upcoming first ballot is limited. These are around 1950 files. Among which the number of Early Bird files is 1500 and remaining are 5 Marla Marketing. The upcoming ballot in DHA Quetta is undoubtedly the most-awaited one. After this, the files will be changed into plots with proper location and numbers. Balloting of files always matters a lot, especially in the case of DHA Housing Societies. These are massive and hold importance as a large number of sale and purchase takes place before and after it.
Early Bird Block Location and Development
As per the commitments of DHA Quetta Management, the location of the Early Bird Block is outstanding. This impressive block is located after the main entrance of this society. Moreover, the pace of development in this block is also satisfactory. This block has experienced good development in a short span of time. The latest updates have confirmed that Early Bird development work is enough to put plot streets in it. At the same time, this development will impact positively on the prices. The rates will go high with the increasing development and possession will be available soon.
 Early Bird Files and 1 Kanal Affidavit Prices
The latest prices of files in DHA Quetta are around 3 crores. The day the announcement of balloting is made, an increase of 15 lacs was noticed. However, these prices will increase more once the balloting results are announced. The prices for affidavit files of 1 Kanal are around 1.40 crores. Price varies day to day.
Should Investment Worth?
DHA Quetta Early Bird Balloting is around the corner. Investment in DHA Quetta is always beneficial. However, these files hold importance because of their prime location. The current prices of the plots are reasonable; moreover, the return on investment will be high. Buying in these files is 100% profitable in both the short-term and long-term gains. However, if you want to earn more with short-term investment, you should at least wait till the announcement of the second ballot. This ballot will take place by the next couple of months, maybe in June – July 2022. However, it is not confirmed the news. It would be best if you waited for the official announcement by DHA. This will surely profit you more than your expectations.
Other Investment Options in DHA Quetta
DHA Quetta is a mega housing project, a top-class housing society developing ideally. This society offers a range of residential and commercial properties which perfectly meet everyone's property needs.
The residential plots for sale in DHA Quetta are:
5 Marla
8 Marla
10 Marla
16 Marla
1 Kanal
2 Kanal
The commercial plots for sale in DHA Quetta are:
Also, you can invest in the following sizes of farmhouses in DHA Quetta:
Many of these options are still available on easy installments. So, please hurry up and plan your investment by contacting our experts at Universal Property Network. Please stay in touch with us for further DHA Quetta Early Bird Balloting details and results!
Please contact Universal Property Network  For More Information click here or visit our youtube channel further assistance