DHA Phase 4 Lahore – Latest Prices and Updates
by UPN
November 10, 2022
0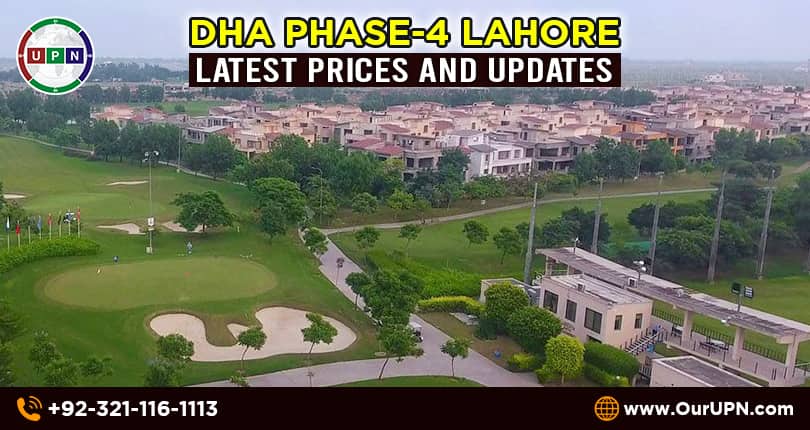 Are you looking to buy 10 Marla plots in DHA Lahore? Do you search for the best plots for sale but hesitate to invest due to high prices? Then, get your dream property in DHA Phase 4 Lahore. It is one of the most beautiful and thoughtfully planned, modern developments in Lahore. This society is designed exceptionally as per the high standards and top-notch amenities. Featuring several excellent features, this place offers heart-winning opportunities. It's a project with incredible beauty and profits. Investment there will come with lots of benefits. Your investment will be secure and grow high even more than your expectations. Further details are:
10 Marla Plots for Sale in DHA Phase 4 Lahore
This society offers a wide range of options in 10 Marla residential plots. Most of these plots are developed and provide the chance of confident purchase for a dream lifestyle. This attractive society is the right place to enjoy maximum facilities. But what if you have a limited budget and looking to grow your investment in DHA Lahore? Don't worry DHA Phase 4 Lahore brings you the best solution. It offers a reasonable price of 10 Marla plots in DHA Lahore KK Block.
The 10 Marla plots for sale in KK Block will cost you less. Its starting prices is 2.25 crores. Yes, you will get them at the lowest rates. But the prices vary from plot to plot. Some plots are available in the bracket of 3 crores. These are on-ground plots but the possession is not yet announced. Once the possession is available, your investment will grow high.
Basically, these are 9 Marla plots. Some of these plots have extra land but most of these are 9 Marla. This KK Block is designed on land previously known as National Bank Society located adjacent to Punjab Housing Society Lahore. This society is recently merged into DHA Phase 4 and is named KK Block.
This block is located ideally. It is accessible from multiple routes. You can approach it from Shangai Road which is connected to Ferozpur Road in Lahore. Also, you can access it from the CC Block of Phase 4 as well as Ring Road Lahore.
DHA Phase 4 Lahore Location
This society enjoys a premium location in the heart of Lahore. DHA Phase 4 Lahore location is near an important cross-section of Ghazi Road, Lahore Ring Road, and Ferozpur Road. Moreover, Walton Road is also located close to it. Also, the well-developed Punjab Cooperative Housing Scheme is lying nearby, while Sui Northern Housing Scheme Phase 1 is located towards the South-East of it. Overall, the location of DHA Phase 4 is the best as well as KK Block's location is hard to ignore. You can surely consider this place because of its ideal location and easy approach from several major routes of Lahore.
Development Work
DHA Phase 4 development work is impressive. Almost 80% of this society features 100% development. However, KK Block launched a few times ago now. The development work of this block is going smoothly. Most of the area is developed while the remaining work will be completed soon.
Other Options Available
KK Block of DHA Phase 4 offers you the best investment opportunity in residential and commercial properties. Here you will find the lowest prices for 10 Marla plots and 1 Kanal plot as well. However, these 1 Kanal plots are not yet been officially launched. The commercial options available are sector shops.
Reasons to Invest
This latest property investment in DHA Lahore is attractive for several reasons. You can confidently purchase these plots because:
The location is ideal and easily accessible.
The prices for the plots are low.
Moreover, the returns on investment are high.
KK Block are offering the perfect amenities essential to living a happy and facilitated lifestyle.
This society is incredible in all terms. You can confidently consider it to construct your dream home in the near future. Moreover, it's an ideal choice for investment growth.
So, what are you waiting for? Invest in DHA Phase 4 Lahore plots before the prices go high! These plots will surely benefit you even more than your expectations. Contact UPN for further details and assistance.
Please contact us through WhatsApp, the Contact Us form, or visit our Youtube channel for further assistance.