Why Should You Adjust Your Disputed File in Private Builder's Projects? Bahria Town Karachi
by UPN
July 15, 2020
0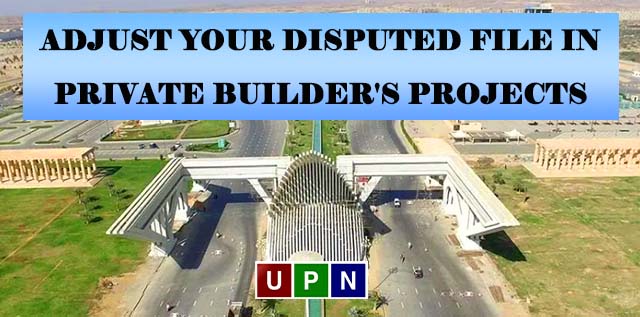 Bahria Town Karachi is a mega housing community with countless investment opportunities. It attracts buyers to buy the best properties for sale. Unfortunately, it is also featuring some of the disputed properties. These un-developed/illegal properties have created a significant loss to the reputation of Bahria Town Karachi. But on the other hand, different best solutions are also offered to facilitate the holders of these properties.
The suggested solutions to get rid of disputed files are:
Refund of Amount
Wait for the Development
Merging in Private Builder's Projects
Bahria Town Karachi and Refund of Amounts
A few months back, Bahria Town Karachi has announced a policy to refund the amounts of disputed/non-developed properties. The percentage of the refund amount depends on the property status. But this policy does not work well as expected. Some of the affectees get their refund while remaining are still waiting. Even, Bahria Town has also closed their refund counters. In simple, it is not a good option to go with!
Wait for the Development
Bahria Town Karachi is a complete city within the city. It is designed with so many precincts. Some are fully-developed while others are developing. However, there are still many precincts where the development work is not started yet. So, it is not clear how long you have to wait for the development of your property. Another fear is that Bahria Town can also change the locations of these properties. So, this option is also not such satisfying.
Merging in Private Builder's Projects
This is the only remaining good option that you can choose to get rid of your disputed files. Numbers of the best projects by Private Builders are developing in Bahria Town Karachi, ideal for choosing. The most prominent feature to adjust your disputed file in these projects is that these are located ideally. Yes, most of these projects are located on Main Jinnah Avenue. Few are in Midway Commercials, while some lies close to Theme Park.
So, it would be good to adjust your files in an ideally located private builder's project.
The second main reason is that most of these builders hold an excellent reputation in the real estate market. Some of them had already delivered several successful projects. By choosing a developing project by these builders, you can be an owner of the best properties for sale in Bahria Town Karachi.
The third primary reason to adjust your disputed files and go with merging is that your 100% amount will be adjusted to these properties. The remaining amount will be payable in installments.
For further details, contact us!
Stay Updated with  Universal Property Network!
Check out our site for more detail. Latest News