Ali Block 125 Sq. Yards Plots or Sports City Villas – A Comparison
by UPN
August 11, 2020
0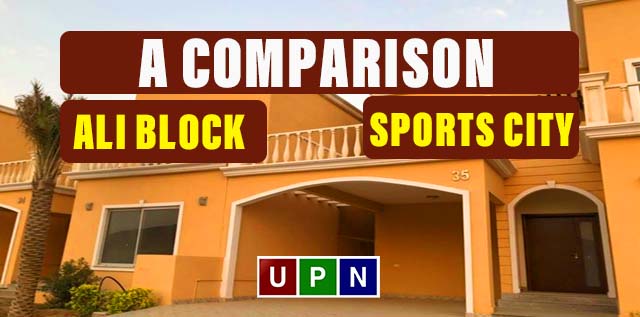 Sports City Villas is one of the most attractive constructed property options in Bahria Town Karachi. These are the luxurious villas with four-bed accommodation and offer all the latest-day living facilities in them. On the other hand, Ali Block is known as the heart of Bahria Town Karachi. It is the best block of this mega housing project where the demand of 125 sq. yards plots are increasing day by day. So, if you are planning to buy a villa in Bahria Sports City or looking for a plot in Ali Block Precinct 12 and get confused while making the decision? Please check the complete details, and the property comparison made just for your ease!
350 Sq Yards Bahria Sports City Villas
Sports City Villas are ideally located in Precinct 35. These are very beautifully built villas lies close to Grand Gymnasium of Bahria Town Karachi. Holding significant importance for its brilliant designing, location, and development, Sports City Villas are ideal to invest in the constructed property.
The development work of the villas is completed so far. Possession of this property is also available. Moreover, hundreds of families are already enjoying the high-standard, peaceful lifestyle of Sports City Villas. However, a few numbers of villas are still available in the grey structure. It means that these are beautifully built villas but not ready to shift.
These grey structure villas are highly recommended for investment. The prices of these villas are low compared to the ready villas.
The starting prices of a Sports City 350 sq yards villas are 1.30 crores to 1.70 crores. Prices of these villas depend on location and development status.
Ali Block (Precinct 12) Bahria Town Karachi
Ali Block – The Heart of Bahria Town is one of the most popular and developed blocks where the demand for property is increasing day by day. Offering the best 125 sq yards plots, Ali Block holds significant value for its ideal location, development status, and population ratio.
Ali Block is located ideally in the proximity of the Grand Jamia Mosque. This block is located at the Main Jinnah Avenue. Precincts 10A and 11A are located in front of it. Also, the Dancing Fountain and the Bahria Golf City are situated close to it. Moreover, Bahria Heights is positioned at the back.
Impressively developed block with the appealing plots of 125 sq. yards, along with ideal location and mind-blowing facilities, all together make Ali block a perfect choice for everyone.
The starting price of 125 sq. yards plots in Ali Block is 28 lacs to 45 lacs. Prices of the plots depend on their location.
Which One is Better for Investment?
Bahria Sports City Villas are designed with elegance, style, and class. These villas can be your perfect homes. Prices are reasonable, already populated area and surrounded by so many attractions. On the other hand, those who desire to construct their home at the ideal location of Bahria Town but by designing their homes on their own can choose Ali Block 125 sq. yards plots.
These plots are available with possession and located close to the numbers of constructed houses. So, in simple, both these properties are the best, and you can go with any one of these properties according to your preference and budget!
Contact Universal Property Network for further details!
Check out our site for more detail. Latest News