Profitable Properties near Rafi Cricket Stadium Karachi
by UPN
October 10, 2020
0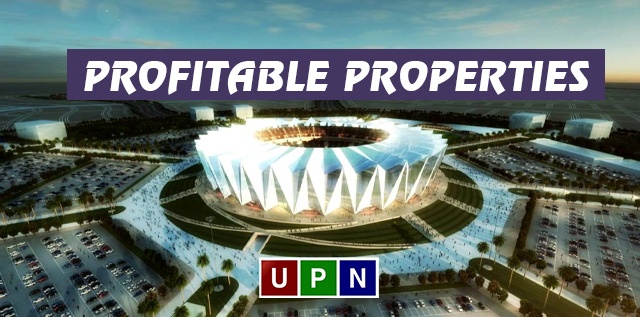 Rafi Cricket Stadium is one of the major development and attractions of Bahria Town Karachi. Located ideally in Bahria Sports City, it is developing as the largest cricket stadium of Pakistan and has the capacity of up to 50,000 people. Bahria Sports City, which is one of the best-planned and developed sub-projects of Bahria Town Karachi, provides numerous investment opportunities. However, buying the most beneficial properties in it is the heartiest desire of every investor.
So, if you are also looking for the same profitable properties in its different precincts, especially in the proximity of Rafi Cricket Stadium that can return you with huge returns… Please keep on reading for all the complete details given below:
Profitable Investment Opportunities near Rafi Cricket Stadium
Following are the precincts which offer highly-profitable properties in Bahria Sports City:
Precinct 34
Precinct 34 stands on top when it comes to investing in the best plots for sale near Rafi Cricket Stadium. It's a Jinnah Avenue and Rafi Cricket Stadium facing precincts where you will find the profitable plots of 250 sq yards. These plots were launched at the total price of 36.55 lacs on the easy payment plan of 4 years. However, now these plots are available at the price range of 30 lacs to 40 lacs. These plots are mostly developed, and possession is available.
Precinct 33
It is another attractive precinct to buy residential plots near Rafi Cricket Stadium. Even, it would be nothing wrong to say, that Precinct 33 is the only precinct with the developed but the cheapest price plots of 500 sq yards. Half of its area of this precinct which lies close to Rafi Cricket Stadium is developed. A shopping gallery is also developed in this precinct while the beautiful, state of the art mosque is under construction.
The best plot of 500 sq yards in Precinct 33 will cost you around 50 lacs to 55 lacs. However, the same plots at the back (means little far from the stadium) are available at the price range of 43 lacs to 50 lacs.
Precinct 32
Before sharing the further details, it is important to mention here that Precinct 32 is a part of Old Bahria Town Karachi but lies close to Rafi Cricket Stadium Bahria Sports City. This precinct is designed with 250 sq yards plots available at the price range of 20 lacs to 25 lacs. The prices of the plots in this precinct are very low. So, those desires to buy a bigger size of residential plots but at the reasonable rates can choose this precinct confidently.
Precinct 31
Precinct 31 is located at the distance of 16 to 17 KM from Bahria Town Main Entrance, but still, it is one of the most attractive precincts to buy property near Rafi Cricket Stadium. This precinct offers the residential plots of 125 sq yards that are located at the top height; hence, buying in them is highly recommended. Also, the best villas of 235 sq yards are developing in Precinct 31. The starting price of a 125 sq yards plot in this precinct is 18 lacs to 24 lacs.
We are now moving ahead to ready villas located near Rafi Cricket Stadium. These villas are always high in demand for both residential and investment purposes.
All the villas of 235 sq yards are ready and available at the best prices.
Precinct 35
This is one of the most popular precincts of Bahria Town Karachi to buy the best villas for sale. Precinct 35 offers the beautifully developed villas of 350 sq yards. Located ideally and so many attractions surround these villas. Precinct 35 villas are available at the price range of 1.30 crores to 1.70 crores. Prices are different as per the location.
So, all of the properties mentioned above are good for safe and secure investment and profitable returns.
For further assistance and any queries, please contact Universal Property Network!
Check out our site for more detail. Latest News