Apartments on Rent in Bahria Town Karachi – Latest Updates
by UPN
May 24, 2023
0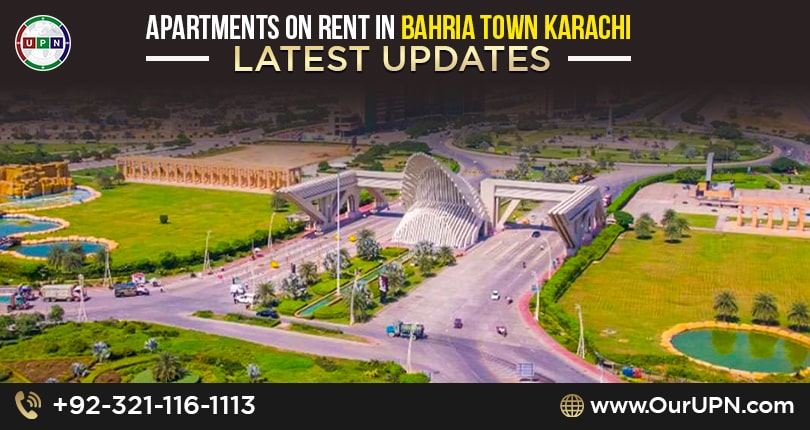 Introduction
Bahria Apartments Precinct 19 is a remarkable residential project, a renowned development in Bahria Town Karachi. Located in a prime location, this precinct offers an exquisite living experience to its residents. The apartments in Precinct 19 are meticulously designed to provide a perfect blend of comfort and luxury. With a range of modern amenities and facilities, this residential complex aims to cater to the diverse needs and preferences of its residents. The architectural design of the apartments is aesthetically pleasing and high-quality construction materials are used. Precinct 19 apartments offer a variety of sizes to accommodate different family sizes and budgets, making it an ideal choice. Also, these are the best apartments on rent in Bahria Town Karachi.
This precinct is surrounded by beautifully landscaped gardens, providing a serene and tranquil atmosphere. Moreover, residents can enjoy access to numerous recreational facilities, such as playgrounds, sports complexes, community centres, theme parks, Imtiaz super store which promote a healthy and active lifestyle. With its strategic location, state-of-the-art infrastructure, and commitment to providing a luxurious living experience, Bahria Apartments stands as an exceptional residential project within the Bahria Town community.
All about Bahria Apartments Precinct 19
Bahria Apartments in Bahria Town Karachi are renowned for their captivating beauty, making them one of the most attractive residential projects. Situated within walking distance of the main gate, this complex boasts a total of 24 towers, each consisting of ground plus 6 floors. The apartments offer a variety of sizes, including 2, 3, and 4-bedroom units, catering to the diverse needs of residents. Tower numbers 4, 6, and 7 specifically feature 3-bedroom apartments, while the 8th tower exclusively offers 4-bedroom units. The remaining 20 towers primarily comprise 2-bedroom apartments. These apartments have garnered significant popularity, with a large number of people and families choosing to make them their homes.
One of the notable advantages of Bahria Apartments Precinct 19 is its close proximity to Imtiaz Super Store, conveniently located on Main Jinnah Avenue. This ensures residents have easy access to a wide range of shopping and grocery options. Moreover, the demand for these apartments is evident as approximately 90-95% of the units have already been occupied. With its appealing views, convenient location, and high occupancy rate, Bahria Apartments are the best apartments on rent in Bahria Town Karachi.
Apartments on Rent in Bahria Town Karachi
Despite the overall slowdown in the property market of Pakistan due to uncertain economic and unstable political conditions, the demand for apartments on rent in Bahria Town Karachi, particularly in Precinct 19, remains remarkably high. Currently, a 2-bedroom apartment in Precinct 19 can be rented for a monthly amount ranging from 27,000 to 32,000 Rupees. Similarly, 3-bedroom apartments are available for rent with prices ranging from 45,000 to 50,000 Rupees per month. For those seeking larger accommodations, 4-bedroom apartments are available for rent at a monthly rate of approximately 70,000 to 80,000 Rupees. Despite the slow property market, the demand for rentals in Bahria Town Karachi, especially in Precinct 19, remains strong, indicating the popularity and attractiveness of these apartments among residents.
Apartments for Sale in Precinct 19 Bahria Town Karachi
In Precinct 19 of Bahria Town Karachi, 2-bedroom apartments are available for purchase at different prices depending on the floor level and construction status. On the ground floor, these apartments can be purchased within the price range of 85 lacs. From the 1st to the 5th floor, the cost of these apartments ranges from 92 lacs to 1 crore. However, there are also under-construction towers, specifically Tower 25 and Tower 26, where these 2-bedroom apartments are being offered at a relatively lower price of 70 lacs.
The varying prices provide potential buyers with options based on their preferences and budget. Whether opting for a ground floor unit or choosing from the upper floors or considering an under-construction tower, there are choices available to suit different requirements of buyers and investors.
Reasons to Invest in Bahria Apartments Precinct 19
These are the best properties for sale in Bahria Town Karachi. However, if you are still in the search of some specific reasons to buy these apartments, please keep on reading!
High demand for apartments on rent in Bahria Town Karachi: Enjoy a consistent rental income with the strong demand for rental properties in this desirable location.
Prime location within the Bahria Town community: Benefit from a sought-after address that offers convenience, accessibility, and a vibrant community atmosphere.
Desirable amenities and facilities attracting tenants: Attract tenants with modern amenities, recreational facilities, and a comfortable living experience.
Competitive rental rates ensuring favorable returns on investment: Earn attractive rental yields with competitive rental rates in Precinct 19.
Well-established infrastructure and security Measures: Invest with confidence in a well-developed and secure community that ensures tenant satisfaction and peace of mind.
Safe and secure living environment for tenants: Provide tenants with a safe and secure environment, making Precinct 19 an appealing choice for families and individuals.
Continuous development and expansion of Bahria Town Karachi: Benefit from the ongoing development and expansion, which enhances the value and potential of your investment.
Strong occupancy rate guaranteeing a steady rental income: Enjoy a high occupancy rate, ensuring a consistent rental income stream and maximizing your investment returns.
Potential for capital appreciation over time: Capitalize on the potential for property value appreciation in Bahria Town Karachi's growing real estate market.
Reputation of Bahria Town as a reputable and reliable real estate developer: Bahria Town is highly regarded and trusted in the real estate industry for its consistent reliability and strong reputation.
Diverse Apartment Sizes catering to different tenant preferences: Bahria Town offers a wide range of apartment sizes, ensuring that individuals can find the perfect living space that suits their specific needs and preferences.
Vibrant Community with a range of recreational and leisure facilities: Bahria Town creates a vibrant community atmosphere by providing residents with access to a variety of recreational and leisure facilities, fostering an active and engaging lifestyle.
Proximity to key amenities such as shopping centres and supermarkets: Residents of Bahria Town enjoy the convenience of having shopping centers and supermarkets located nearby, making every day errands and shopping easily accessible.
Well-maintained and aesthetically pleasing architectural design: The architectural design of Bahria Town properties is meticulously maintained and visually appealing, creating a pleasant and attractive living environment.
Long-term Growth Potential in the property market: Bahria Town properties have demonstrated a strong potential for long-term growth in the property market, making them a promising investment opportunity.
Frequently Asked Questions
Here are the answers to commonly asked questions:
What is Bahria Apartments Precinct 19?
Bahria Apartments Precinct 19 is a residential project within Bahria Town that offers modern apartment living with a range of amenities and facilities.
What is the location of Bahria Apartments?
These apartments are located ideally. You will find them within walking distance from the main entrance.
What types of apartments are available in Bahria Apartments Precinct 19?
Bahria Apartments are available in 2-bedroom, 3-bedroom, and 4-bedroom sizes.
Are these the best apartments for rent in Bahria Town Karachi?
Yes, Bahria Apartments Precinct 19 are the best options to consider to get an apartment on rent in this society.
Is Buying Safe in Bahria Apartments?
Yes, these are thoughtfully designed, modern living apartments where your investment will be secure and beneficial.
Please contact Universal Property Network For More Information click here or visit our Youtube channel for further assistance.