Grand Heights 9 Bahria Town – Shops, Apartments and Payment Plan
by UPN
May 26, 2023
0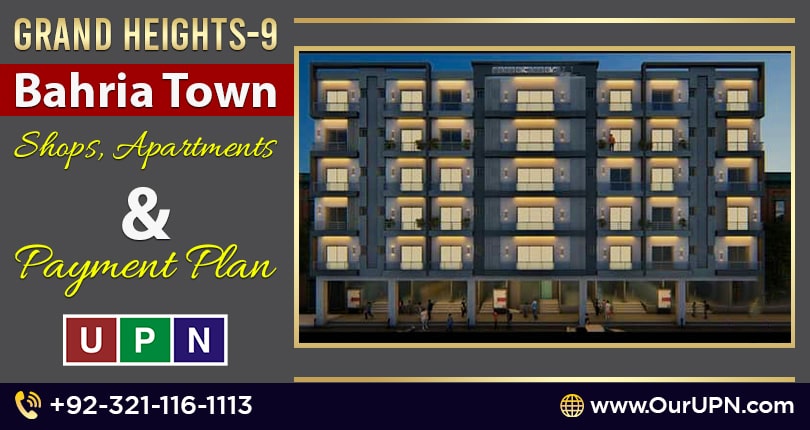 Introduction
Grand Heights 9 is one of the most outstanding projects in Bahria Town Lahore. This magnificent development offers great commercial shops and apartments at reasonable costs. These commercials are a significant investment because of their perfect location and elegant infrastructure. The development of this project is increasing. Furthermore, you can easily buy commercial properties based on your requirements and budget. Residential apartments are also ideal for modern residents in Bahria Town Lahore. This project can be beneficial for getting significant rental income.
In this blog, we will go over the complete details of Grand Heights 9 in Bahria Town Lahore. We will go over its location, map, commercial shops, apartments, payment plan, and investment benefits.
About Developer
It is a luxurious project developed by Landmarks Developers in Bahria Town Lahore. In the history of the real estate industry, these developers have a well-known name and reputation. They have already launched several great projects and delivered them on time. These delivered projects are:
Grand Heights 1
Grand Heights 2
Grand Heights 3
Grand Heights 4
Grand Heights 5
Grand Heights 6
Grand Heights 7
Grand Heights 8
All of these projects have been fully developed and are currently in possession. Grand Heights 9 is currently being developed. Possession will be announced once the development is completed. The value of the project will rise after possession.
Grand Heights 9 Location
One of the most prominent features of any project is its location. This huge project is situated in the center of Lahore. Grand Heights 9 is ideally located in Talha Block, Sector E in Bahria Town, Lahore. Furthermore, it is also close to various significant projects such as:
Olive Park
Rose Garden
Football Club
Eiffel Tower in Bahria Town
Bahria Cricket Academy and Ground
Shairanwala Farmhouse
Bahria Country Club
Grand Heights 9 Map
It is an excellent project that provides both business and residential properties. The Grand Heights 9 map indicates its proximity to the following major healthcare facilities:
Life Care Hospital
Bahria International Hospital
Sharif Medical Hospital
Additionally, it is close to some of the greatest educational institutions. Residents of these apartments will benefit from nearby educational opportunities for their children. These educational institutions are as follows:
The City School, Bahria Town Campus
Beacon House, Bahria Town Main Campus
Akhter Saeed Medical & Dental College
Furthermore, the Grand Heights 9 map shows several nearby food establishments, which are:
Bahria Grand Hotel and Resort
Salt'n Pepper Express
McDonald's
KFC
Papa John's Pizza
ONO Pizza and Fast Food
DUMx Broast
Cakes & Bakes
Ravi Restaurants
Grand Heights 9 Bahria Town
After successfully completing eight projects in Bahria Town, Landmark Developers is introducing Grand Heights 9. This beautiful project was officially launched in Talha Block Bahria Town Lahore. It is spread among three plots in Talha Block, numbered 47, 48, and 49. This project has an eight floors, including a basement. It has both commercial shops and residential apartments, with the following arrangements:
Commercial shops are located on the basement and ground floors.
From the first to the sixth floors, there are residential apartments with modern amenities and luxuries.
Grand Heights 9 Commercial Shops
It is a high-end project that provides commercial shops with the best returns on investment. These commercial shops are located on the basement and ground floors. These shops are the best because of their convenient location, numerous amenities, and affordable prices.
All shops have sold out, and construction has begun. The resale options are available for sale. The grey structure of these commercials will soon be complete. The prices of these properties will rise as a result of the development.
Grand Heights 9 Apartments
This amazing project also includes residential apartments with modern features and conveniences. Residential apartments are available from the first to the sixth floors. Grand Heights 9 has the following apartments for sale:
The following are the sizes of these one-bedroom apartments:
The apartments in this project are designed and furnished with:
1 bedroom with attached washroom
1 dining room
1 kitchen
These apartments are offered with a simple payment plan. Residents of these apartments will have convenient access to schools, colleges, hospitals, commercial markets, and other amenities. There are different parks in the area where families can spend their time. The residence of these apartments will provide a better lifestyle that everyone desires.
Grand Heights 9 Payment Plan
This project was launched with a simple one-year installment plan. The majority of clients have purchased these properties, and there are only a few left. These properties are currently available and priced as follows:
Commercial shops are completely sold out, with only a few resale options remaining.
Only a few apartment options are available for sale. Prices for one-bedroom apartments in this project start at 60 lacs and go up to 65 lacs.
Investment in Grand Heights 9 Bahria Town
It is the most advantageous project in Bahria Town, with modern amenities and an outstanding location. There are various benefits and reasons to invest in Grand Heights 9, including:
Ideally located in Talha Block, Sector E in Bahria Town Lahore
24-hour security services and CCTV cameras are available.
Residential apartments are available from the first floor to six floors and feature modern amenities.
A backup power supply and a water disposal system are available.
There are high-speed elevators available.
There will be commercial zones as well as community parks.
There are fire extinguisher systems available.
There will be fitness centers and a gym.
A separate parking space is available.
Commercial shops are available in the basement and on the ground floor.
Both residential and commercial properties in Grand Heights are best for investment.
Both properties are available for resale.
This investment will generate a high return.
Conclusion
Grand Heights 9 is one of the most significant projects that has been launched, with both residential and business properties. Additionally, it is preferable because of its numerous conveniences, characteristics, and properties. Most of the inventory has been sold. Now, only resale opportunities are currently available. If you want to buy such properties, you can select one of these resales. Furthermore, it is going to provide a significant return in the future.
Please contact Universal Property Network For More Information click here or visit our Youtube channel for further assistance.