Bahria Central Park Apartments – All Latest Details & Information
by UPN
November 11, 2019
0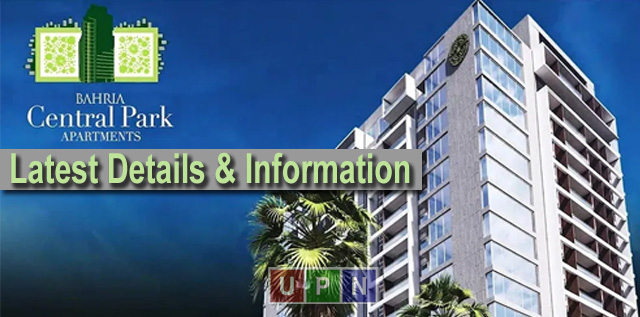 Bahria Central Park Apartments
Bahria Town Karachi has recently launched a new mega-deal of luxury apartments (Central Park Apartments ) in Bahria Paradise Precinct 54. One of the best apartment 'projects is named "Bahria Central Park Apartments", as all these apartment buildings will be facing 32 Acre, Central Park. This project is offering 2 Bedroom luxury apartments and a limited number of 4-bed luxury penthouses.
The exact number of apartments is not yet disclosed, but there are some rumors that these are 10,000 apartments project. It is clear that it will be a mega project with multiple hi-rise apartment towers surrounding the Central Park in Bahria Paradise.
Development Status
The 32 acre iconic Bahria Central Park Apartment is currently under development and it is expected that soon it will be the busiest family amusement hub of Bahria Town Karachi.
Moreover, the development work of these luxury apartments is already started. Heavy machinery and labor are working and can be seen on the site.
Location Analysis on Map
By analyzing the map of Precinct 54, anyone can easily locate these Central Park apartments as the red-colored plots around the park are going to be high-rise apartment towers. Moreover, if we look at the map carefully, the given area for Central Park is 64 acres whereas, the advertisements of Central Park show that it will comprise 32 acres of land. So, it means that the total land reserved for Bahria Central Park Apartments is now reduced by half in order to design these luxury apartment buildings.
Location Overview
Bahria Central Park Apartments Karachi is beautifully located in Bahria Paradise. These apartments will be a part of Precinct 54 and are Central Park facing apartments. This project is easily accessible from the Main Jinnah Avenue, and through the network of wide roads, i.e  Sir Syed Avenue, Paradise Avenue, and Quaid Avenue.
Details of Apartments
This highly attractive Central Park Apartments project is featuring 2 Bedroom luxury apartments covering an area of 1100 sq. ft. Moreover, the 4 Bedroom penthouses will construct on an area of 3000 sq. ft.
2-bedroom apartment price is 75 lacs and the 4-bed apartment is nearly 2 crore. The booking of these apartments is already started and you can book them easily with a down payment of 10% only.  The remaining amount is payable in 16 equal quarterly installments.
The complete payment plan details of Bahria Central Park Apartments are:
| | | |
| --- | --- | --- |
| Size of Apartments | 2 Bed Apartments | 4 Bed Pent Houses |
| Down Payment | 6, 45,000/- | 17, 45,000/- |
| 16 Installments | 4, 25,313/- | 12, 44,063/- |
| Total Price | 74, 50,000/- | 2, 16, 50,000/- |
The processing fee is Rs 10,000/- and the form fee is Rs 1000/-. For 4 bed penthouses, the processing fee is Rs 25,000/- and form fee is Rs 5000/-
All Booking Forms Are Sold Out
Another big achievement is that all the booking forms of Central Park apartments were all sold out within 2 days. Now the dealers are selling the same forms worth 1000/- at higher rates.
If you are interested to book your apartments, please fill the required details and submit them in the head offices of Bahria Town or nominated branches of Allied Bank along with the following documents:
CNIC Copy of Applicant
CNIC Copy of Next of Kin
2 Passport Size Photos of Applicant
Pay Order in Favor of "Bahria Town (Pvt) Ltd. for Down Payment, Membership Fee, and Form Fee.
Note: It is important to mention that the last date to submit your booking forms is November 14, 2019.
Check out our site for more detail about BahriaCentral Park Apartments
If you are interested to buy these apartments, it is recommended to rush for the booking and contact Universal Property Network before you have to pay heavy premiums.