Bahria Fountain View Apartments – Bahria Paradise Karachi Update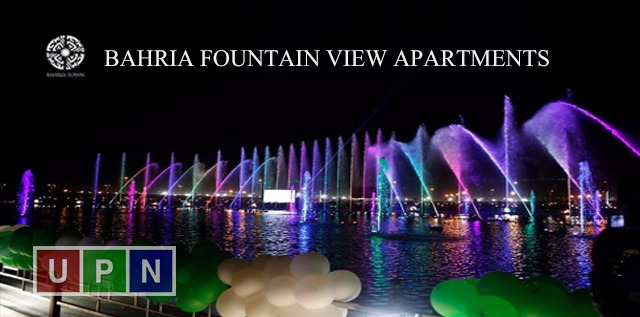 Bahria Fountain View Apartments that are planned to be part of Bahria Paradise Karachi and will be an exceptional choice of residence in facility-rich neighborhood. Although, not much details have been revealed about the project by Bahria Karachi management but recently launched map of Bahria Paradise Karachi gives satisfactory information about the residential project. The name of apartments originate from nearby located Dancing Fountain of Bahria Town Karachi. Residents of these apartments will be able to enjoy a spectacular view of Dancing Fountain every day, right from their terraces.
A careful analysis of Bahria Paradise Map and Precinct 58 map tells us that Bahria Fountain View Apartments will be an exceptional choice of residence, located very near to main landmarks of not only Bahria Paradise but Bahria Town Karachi as well.
Bahria Fountain View Apartments Location
Bahria Fountain View Apartments are located in Precinct 58 of Bahria Paradise Karachi. On one side of apartments, 120 ftwide Sir Syed Avenue will be positioned and on the other end of these apartments, 150 ft. wide Avenue 17 will be situated providing direct access to Bahria Town Karachi. Right across from Sir Syed Avenue, Precinct 56 will be located.
Bahria Fountain View Apartment – Size &Prices
There is no official word available from Bahria Town (Pvt.) Ltd. about the size of apartment or booking price of Bahria Fountain Apartments. But it is expected that just like rest of the Bahria Paradise Karachi, true value for money will be offered in these apartments. 500 Sq. Yard Bahria Paradise Villas are testament of this fact.
Bahria Fountain View Apartments – Features
Based on the model of Bahria Heights, Bahria Fountain View Apartment will be constructed in a compound-style apartment blocks. There are going to be 3 blocks of Apartment buildings in Bahria Fountain View Apartments. Each block will have a centralized park and a separate park is also planned to be built in the arc formed by the 3 blocks.
Right next to Bahria Fountain Apartments, land has been allotted for:
3 Acre+ Mosque
5+ Acre Family Park
4 Acre Commercial Market
Bahria Fountain View Apartments and Dancing Fountain
Dancing Fountain is not going to be the only landmark located near to Bahria Fountain View Apartments. A direct road from the apartments will lead you to Taj Mahal Replica that will be constructed in Bahria Paradise. Due to close proximity with Bahria Town Karachi, 27 Hole Golf Course and Grand Jamia Mosque of Bahria Karachi will also be located very near to these apartments.
Right now, this is the only information available regarding these ideally located Apartments. We will update you about the payment plans, floor sizes and other important details as soon as Bahria Town management launches the project officially.