Bahria Heights – Current Market Updates
by UPN
March 12, 2021
0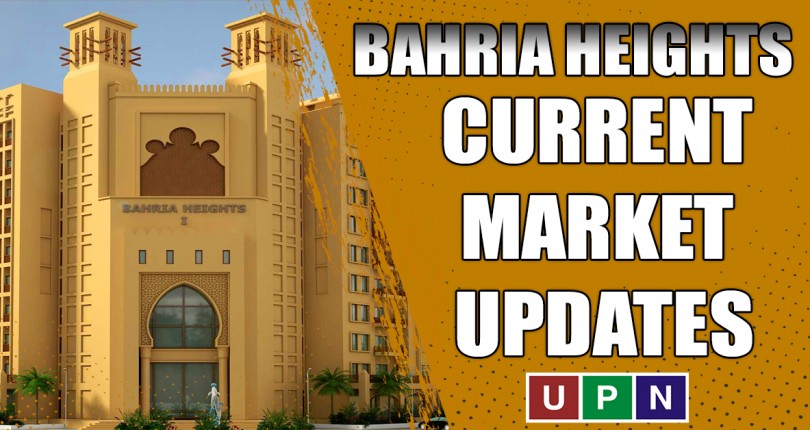 Bahria Heights is ready to move apartment buildings located in the heart of Bahria Town Karachi. Featuring two beds apartments covering an area of 1100 sq ft., Bahria Heights is a thoughtfully planned project. Comprising of a total of twelve towers, all these buildings have the best residential facilities and attractions. All the towers of Bahria Heights are named alphabetically where the tower I, tower J, tower K, and tower L are offering reasonable apartments for sale.
However, these four towers are under discussion for a long time. The grey structure of the buildings is ready, but no progress in further development. People who owned properties are curious to know that when the development work will begin? Do investors also want to know why Bahria Town is not focusing on the development of these towers?
Let's find out the answers!
Location of Bahria Heights Tower I, J, K, and L
Bahria Heights Tower I, J, K, and L are located at the most prime and tactical location of Bahria Town. All these four towers are situated close to Grand Jamia Mosque. Developing at the back of Grand Mosque, these towers of Bahria Heights are easily accessible while traveling on main Jinnah Avenue.
These towers are enjoying the facilities and proximity of Precinct 10A and Precinct 10B villas. All are commercial facilities, pharmacies, hospitals, and schools are located nearby.
Latest Prices in Bahria Heights Tower I, J, K, and L
The prices for the apartments for sale in Bahria Heights are increasing day by day. Not only these, but the prices of all the ready properties of Bahria Town Karachi are increasing. Around two months ago, the maximum price of a 2-bedroom apartment in Tower I, J, K, and L was 50 lacs.
But currently, the same apartments are available in the price range of 55 lacs to 65 lacs. We can also analyse that these prices will continue increasing for the next couple of months.
When does the Development Work begin?
The development work of Bahria Heights apartments will begin soon. Bahria Town management is working to resume the development work of these four towers. Hopefully, this work will begin in the next 2 to 3 months. Once the work starts, these towers will be ready to live in a place within a year.
So, if you own an apartment in these four towers of Bahria Heights, please don't sell it. But if you really want to sell it or are interested in any other property, then you can go for it.
Contact Universal Property Network  And For More Information click here or visit our youtube channel