Bahria Orchard H Block – 8 Marla Plots and Facilities
by UPN
November 22, 2018
0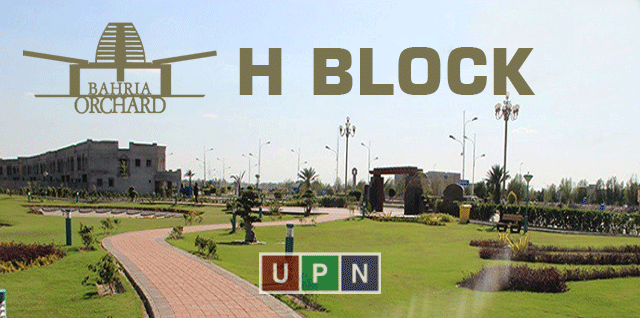 Bahria Orchard Phase 2 is the budget-friendly project of Bahria Town to provide you maximum space with minimum rates. H-Block is designed with the plot cuttings of 8 Marla plots in it. The plot prices are really budget-friendly just as the Bahria Town has promised to you. These plots are the best option for residence as all the features and top-notch facilities are waiting for you. However, making the investment in H-Block will for sure deliver you with the handsome return just after the completion of some major landmarks and attractions. The H-Block is located at the amazing location where you can approach it from two difference entrances. So let's discuss its other features, prices, and investment potential below.
Bahria Orchard H – Block Location Overview
The Block-H of Bahria Orchard Phase-2 is located at the distance of some kilometers from the Main Boulevard. This block is easily accessible from the Sundar Road. The very first block from the Sundar Road is the H-Block. This is one of the best blocks in Bahria Orchard that we can access from Main Raiwind Road as well as from the Sundar Road.
H-Block is catching the attention of investors as it is designed with 200 Kanal Park that is located close to it. Another amazing attraction of this block is the Grand Mosque that is located in between the J- Block and H-Block of Bahria Orchard. Buyers are investing in H-Block as a big Continental Hotel of Bahria Orchard is under-construction that is located at the walking distance from this block.
Bahria Orchard H Block Prices – Latest Updates
The price ranges for these 8 Marla plots starting from 32 lac to 40 lac. There is a price difference for plots as per location. About 70 to 80% of these 8 Marla plots are facing the large 200 Kanal Park and 60% of the plots are facing the Main Boulevard so there must a price difference of these 8 Marla plots. Most of the houses are already completed while the number of grey-structures can be seen on the site.
Outclass Residence and Life-Changing Investment Potential
Only the plots of 8 Marla are available in H-Block of Bahria Orchard Phase 2. This block is amazingly designed that it is surrounded by all the basic and desirable facilities and features. H-Block is providing you an ideal chance to buy a large place at the economical rate. You can construct your dream home at this 8 Marla plot. Buying a plot for profit in H-Block is also the right decision as it is expected that as the development of continental hotel will complete, the prices will definitely increase. H-Block is the only block of Bahria Orchard that can be approached from two different roads so investment is highly recommended.
For further details and updates stay connected to Universal Property Network