Bahria Orchard Phase 2 Extension Possession Announced
by UPN
August 4, 2022
0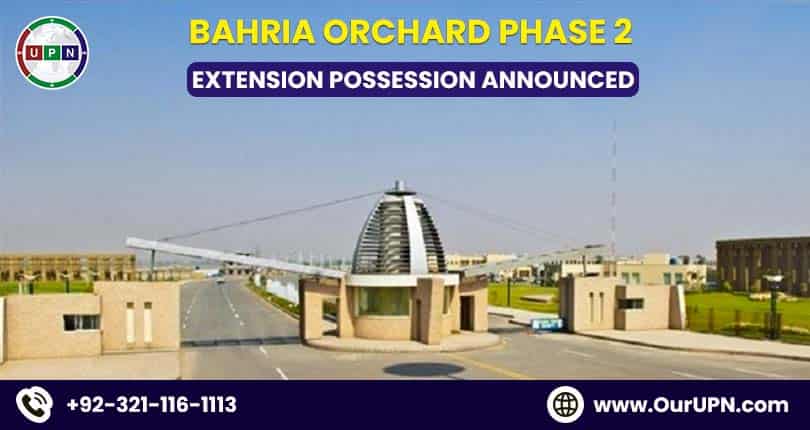 Do you plan to invest in the best property in Bahria Orchard Lahore?   Or had you already invested and waiting for the Bahria Orchard Phase 2 Extension possession? Then, celebrate since the moment has arrived.
Originally known as Bahria Orchard Phase 5, LCO Phase 2 was the new name for the Bahria Orchard Phase 2 Extension. It has all the distinctive features and amenities of modern housing societies and is located perfectly in the proximity of Bahria Orchard Phase 2.
The following plot sizes are available in this society, offering fantastic opportunities:
Residential Plots of 5 Marla
Residential Plots of 8 Marla
Commercial Plots in 5 Marla
These plots were offered at reasonable prices with flexible 1-year and 1.5-year payment plans. Booking of plots was also started with a minimum percentage of down payment. However, all the installments for the plots are completed, and now the possession of plots is available.
Bahria Orchard Phase 2 Extension Possession
The Extension of Bahria Orchard Phase 2 was first launched with three blocks, i.e., K Block, L Block, and M Block. However, after some time, another block named "N" block was added to its landscape. Currently, all these blocks have impressive development. The main boulevard of this society is ready, while small streets and roads are also carpeted. Dps are installed, and plots are on-ground.
Bahria Orchard Phase 2 Extension possession is announced for residential and commercial plots. Anyone can confidently apply for the possession of his property directly at Bahria Orchard's head office.
Location of Bahria Orchard Phase 2 Extension
The location of Phase 2 Extension is excellent. With easy access from Raiwind Road, it is conveniently positioned. Jati Umrah Road provides another major entrance to this project.   Additionally, it is accessible through a road that runs between Bahria Orchard Phase 2's C Block and D Block. The location of this project is close to the residence of several known parliamentarians.   Residents of Bahria Town Lahore who travel from Sector F will have access thanks to the extension of this route to Jati Umrah. Specifically, Bahria Orchard Gate No. 6 is the primary entry to this community on Jati Umrah Road.
For those who live in Bahria Orchard and Bahria Town Lahore, the location of this society will make it easier for them to commute and move around.
Plots for Sale in Bahria Orchard Phase 2 Extension
The 5 Marla plots for sale in Phase 2 Extension are now available at surprisingly affordable rates of 50 lacs for general and 52 – 56 lacs for the category. Similarly, the 5 Marla commercials will cost you between 2.25 crores to 2.50 crores.
Expected Prices in the Coming Days
Bahria Orchard Phase 2 extension possession is available. So, the prices are also increasing. The current rates are still affordable, but the expected plot prices of 5 Marla residential plots are 60 – 65 lacs. Undoubtedly, it is the right time to invest and earn handsome returns on investment. These plots are ideal for constructing your dream house and enjoying a happy lifestyle in the womb of amenities.
Bahria Orchard Phase 2 is a beautifully developed community with all the striking features and amenities. It offers the best plots for sale in both residential and commercial categories. Buying these plots is beneficial for residents as you will enjoy the best. At the same time, the commercial plots are exceptional for setting up your business in the prime location of Lahore. You can also purchase these plots for constructing a plaza and renting it out for good returns.
Frequently Asked Questions
Here are the answers to commonly asked questions:
Is Bahria Orchard Phase 2 and LCO Phase 2 the Same Project?
Yes, this project was first announced as Bahria Orchard Phase 5, but later its name was changed to Phase 2 Extension and LCO Phase 2.
Bahria Orchard Phase 2 is LDA Approved?
The entire land of this project is clear but not yet approved by authorities.
Is this a Budget-Friendly Project?
Undoubtedly, Bahria Orchard Lahore is a budget-friendly project offering everyone reasonable prices.
Contact our experts at UPN to get the best plots in Bahria Orchard Housing Societies Lahore. Stay updated with us!
Please contact Universal Property Network For More Information or visit our Youtube channel for further assistance.