Bahria Paradise Karachi – Possession Announced Latest Update
by UPN
May 12, 2020
0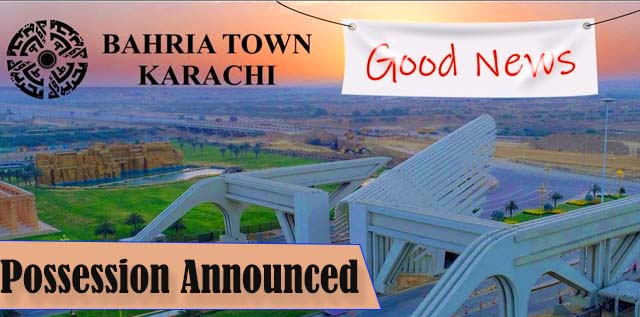 Bahria Town Karachi has recently announced the possession of developed properties in Bahria Paradise.The management of this mega housing community has finally announced the possession of 100% developed properties. Bahria Town issues the possession letters to the property owners.
It is big news for the investors of Bahria Paradise, who has been waiting for the possession of their properties. Another plus point is that still, four installments of Bahria Paradise are remaining, but properties are now available with possession.
Bahria Town Karachi is sending out messages to the owners of ready for possession properties. The last date to apply for possession was 31st March 2020. But due to the ongoing coronavirus pandemic and lockdown, Bahria Town has extended the deadline before or by 20th May 2020.

Developed Precincts of Bahria Paradise and Possession Updates
Bahria Town Karachi is now handing over the possession of 100% legal properties of Bahria Paradise. Following are the details of Precincts which are ready for possession:
Precinct 47
This precinct is located near the entrance of Bahria Paradise. The development work of this precinct is complete.  Plot holders of Precinct 47 are advised first to confirm their properties from Bahria Head Office, and then they can apply for possession.
Precinct 48 and Precinct 49
Both of these precincts are partially developed but also featuring some disputed properties. So, it is advisable that before applying for possession, do confirm your property from Bahria Town Head Office.
If you are holding a legal and developed plot in these precincts, you can confidently apply for its possession.
Precinct 50, 51, Precinct 54, 56, and Precinct 57
All of these precincts are partially developed and offering some of the best-developed properties. Precinct 50 and Precinct 51 is featuring 500 sq. Yards plots. Moreover, Precinct 51 is also offering 500 sq. Yards luxury villas.
Precinct 52 and Precinct 53 are not yet developing.
Precinct 54, Precinct 56, and Precinct 57 also develop partially. Possession of some developed properties is also available in these precincts.
Take Possession of Your Properties and Get Benefit from Construction Relief Package
The Federal Government of Pakistan has recently announced a construction relief package. The most prominent feature of this package is that no one will ask you about the source of your income. But only those will get benefit who will invest in the construction industry before or by 31st December 2020.
So, it is advisable to apply the possession of your properties in Bahria Paradise and start construction over them.
For more details, contact Universal Property Network!
Check out our site for more detail. Latest News