500 Sq Yards Plots in Bahria Sports City
by UPN
February 1, 2022
0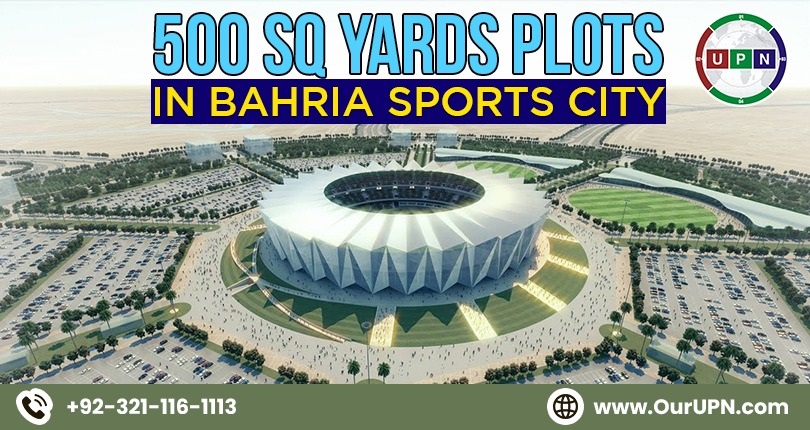 Bahria Sports City is a mega-development inside Bahria Town Karachi. It's the second sub-project designed with several precincts and diverse residential and commercial properties. Bahria Sports City holds importance for significant reasons; however, the impressive development of Rafi Cricket Stadium changes the whole game. This place is undoubtedly offering all the amenities and luxuries of the modern-day. But it is also advanced by providing unmatchable sports facilities. It is perfectly designed to offer sports lovers and fitness conscious people a clean and facilitated lifestyle. The 500 sq yards plots in Bahria Sports City are high in demand.
It has several options available like villas, 250 sq yards, 1000 sq yards, and 2000 sq yards options available. But today, in this latest blog post, we will only discuss the details of 500 sq yards plots that come with the lowest prices and high investment returns.
500 Sq Yards Plots in Bahria Sports City
This beautiful sub-project features a range of precincts offering the best plots in 500 sq yards. However, you will find the budget-friendly plots in:
Precinct 40
Bahria Sports City Precinct 40 is located ideally. This precinct has a prime location and easy access from Main Jinnah Avenue and also proximity to Rafi Cricket Stadium. Most of its area is developed while the rest of the work is going on smoothly. The latest prices of 500 sq yards plots in this precinct are starting from 1.10 crores to 1.35 crores. The difference in the prices is because of the plot's location and development. These rates are still reasonable and have high investment potential.
Precinct 41
It's another attractive precinct of Bahria Sports City. It offers a range of 500 sq yards plots. These plots are reasonable and highly recommended for construction and investment purposes. The development work in Precinct 41 is moving on at a satisfactory pace. The starting prices of 500 sq yards plots in this beautiful precinct are 90 lacs. Some of these plots will cost you around 1 crore. One of the most significant features of this precinct is the eye-catching view of the Grand Jamia Mosque.
Precinct 36
If you are still in search of 500 sq yards plots in Bahria Sports City, Precinct 36 is one of the best options. It is perfectly developed and located ideally. Even the construction of houses is started on street 1. Here a good location plot of 500 sq yards will cost 1.45 crores to 1.60 crores. Moreover, this precinct is close to Rafi Cricket Stadium and Bahria Sports City Villas.
Precinct 37
Investors with desires for long-term investment gains can prefer buying in Precinct 37. This impressively planned precinct is offering reasonable price plots of 500 sq yards. Plots are on-ground and available at affordable rates. Here buying a plot is equally beneficial for residence as the surroundings are important. On the other hand, these plots have the potential to return you huge profit by the next 3 – 4 years. The starting prices of plots in Precinct 37 are 1.25 crores to 1.35 crores.
Precinct 33
This precinct is not part of Bahria Sports City. However, it is located in proximity to Precinct 35 Villas and Rafi Cricket Stadium. Also, the shopping gallery is operational in it, making it a suitable option for residents. It offers 500 sq yards plots in the price range of 1.50 crores to 1.60 crores. Prices will surely increase with the increasing construction and inhabitation.
Conclusion
The project planning and state of the art development of Bahria Sports City make it a perfect choice for 500 sq yards plots. The distance of Sports City from Bahria Town's main entrance is 16 – 17 KM. But once you enter it, it appears like a complete city within the city. Almost all of the above-mentioned precincts are located close and offer good residential and investment options. Choosing one precinct over another is completely depends on your requirement, budget and purpose of buying.
If you need any assistance, beneficial investment analysis, or looking for a safe, smooth buying and selling process in Bahria Town Karachi, please get in touch with Universal Property Network. We are the authorized dealers of Bahria Town Housing Societies.
Please contact Universal Property Network For More Information click here or visit our youtube channel further assistance