Bahria Paradise Karachi Reason to Invest
by UPN
May 18, 2022
0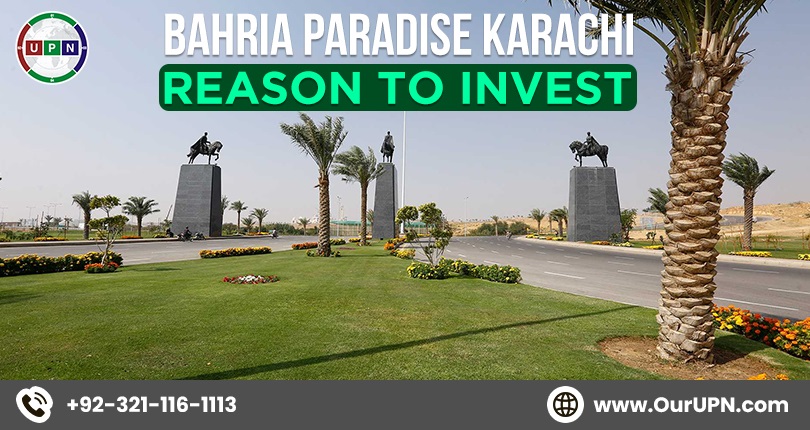 Bahria Town Karachi is a masterpiece, a mega housing venture, and the most facilitated living place. Designed perfectly Bahria Paradise Karachi reason to invest are many. This project is developed as per the latest trends and modes, it features advanced development and attractions. Comprising a large area, it is the largest housing society in Pakistan. Even though it is popular as the city within the city. Bahria Town has several sub-projects planned inside, among which Bahria Paradise holds significant importance. It's a breath-taking development and provides a fresh, green, and clean environment. Located at the prime location, Bahria Paradise Karachi offers profit, peace, and comfort.
Bahria Paradise Karachi Properties for Sale
This impressive project features several outstanding properties that are planned brilliantly. It contains plots of different sizes, luxurious villas, and apartments. Soon, the launch of commercial plots is expected. All these properties are exceptional as it perfectly meets the property requirements of buyers and investors.
People looking for attractive options within their budgets can confidently choose the properties for sale in Bahria Paradise Karachi. Undoubtedly, this project has countless opportunities, but the best where you will surely enjoy your investment are described below.
Bahria Paradise Karachi Reason to Invest – Ideal Properties
This state-of-the-art venture offers the low-price 500 sq yards plots. These plots are available in several precincts, and also the prices are different. However, you can happily invest in:
Plots of Precinct 47 and Precinct 48
500 Sq Yards Plots in Precinct 51
Options Available Near Precinct 54
Precinct 47 and Precinct 48 hold importance for their prime location just after the main entrance of Bahria Paradise. Moreover, these precincts are at a short distance from Bahria Town's main entrance and enjoy the proximity to well-developed precincts of Old BTK. Also, the current prices of the plots are reasonable, providing you a chance for low-budget investment. The mesmerizing view of Grand Jamia Mosque from the plots of Precinct 47 and Precinct 48 is just heart-winning.
Similarly, we recommend buying in the plots of Precinct 51 as it features luxurious villas. The possession of these villas is handover, and families have started to move into them. That's why the demands for these plots are increasing, and are the best plots for residence and construction.
Also, you can choose the ideal plots in the surroundings of Precinct 54. Why? Because this precinct has the graceful development of Central Park Apartments. These are 2-bedroom apartments and 4-bed penthouses. Once the possession is available, this precinct will have good residence. Buying a plot in its proximity will surely benefit you.
Luxury Villas for Sale
Bahria Paradise Karachi reason to invest in the fantastic development of luxury villas. These are 500 sq yards villas featuring 5 bedrooms accommodation. These villas are 100% developed and have possession. People looking for fully facilitated and spacious villas will love to reside in Bahria Paradise Villas.
Apartments for Sale in Bahria Paradise Karachi
If you are still in the search of the ideal property for sale in this paradise-like place, can happily invest in Central Park Apartments. These are luxury apartments developing speedily at the prime location of Precinct 54. These Central Park-facing apartments come with beautiful views and attractive facilities. Most importantly, the prices for these living spaces are low, and you can also purchase them on easy installments. Booking starts with a 30% down payment. The possession of these apartments will be available in the next few months.
Conclusion:
Bahria Paradise Karachi reason to invest are many. But on top, you can consider this place for a comfortable and peaceful residence. It's a place where you can get properties of different categories at budget-friendly rates. Moreover, the potential for investment in this impressive project is high. Your investment will be secure and profitable. So, hurry up and choose this outstanding venture where the best properties for sale awaits you.
Please contact Universal Property Network For More Information click here or visit our youtube channel further assistance