Bahria Sports City Karachi – Plot Files Prices, Location, Map and Development Update
by UPN
December 17, 2017
8 Comments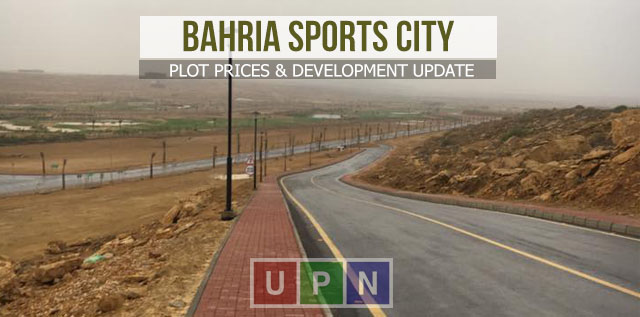 Bahria Sports City is a grand project located inside Bahria Town Karachi that promises to offer a sports-friendly and healthy environment – once development is completed. Divided into several blocks, Bahria Sports City mostly consists of 250 Sq. Yard, 500 Sq. Yard and 1000 Sq. Yard plots. Some 125 Sq. yard plots are also available in the project for sale and investment.
Bahria Sports City Plot Files
For all the people that are looking to buy Bahria Sports City plot files, two crucial factors must take precedence on all other things. First, the location of this block in which they are going to buy their plot file and secondly, what is the development status in that specific block.
Precinct 36 – Bahria Sports City
Development in the project is almost complete as the number of the plots in the block were less than a usual block of Bahria Sports City. Consisting of only 500 Sq. Yard and 1000 Sq. Yard plots, this block is set to be an exclusive block resided by high-end buyers.
Bahria Sports City Location
Within Bahria Sports City, Precinct 36 has an amazing location. It is situated right along 400 ft. wide Jinnah Avenue. On its one side Rafi Cricket Stadium is located whereas beautifully designed Bahria Sports Villas are positioned on the other side of the block.
Precinct 38 & 40 – Bahria Sports City Plots
Development in these 2 precincts have also started and construction on major infrastructure is being carried out right now in the 2 blocks. Precinct 38 consists of 1000 Sq. Yard plots whereas Precinct 40 contains 500 Sq. Yard residential plots. With heavy machinery positioned on location, development process is successfully completing its various phases. Mud roads are being completed along with installation of under-ground electric supply.
Bahria Sports City Rates
Own in each precinct vary according to the development status, distance from main landmarks and plot categories. The own for the above mentioned precincts is as follow
| | | |
| --- | --- | --- |
| Precincts | Plot Size | Own Range |
| Precinct 36 | 500 Sq. Yard | Rs. 2,000,000 – Rs. 3,000,000 |
| Precinct 36 | 1000 Sq. Yard | Rs. 4,800,000 – Rs. 6,000,000 |
| Precinct 38 | 1000 Sq. Yard | Rs. 800,000 – Rs. 4,000,000 |
| Precinct 40 | 500 Sq. Yard | Rs. 500,000 – Rs. 1,500,000 |
We have already covered the development status of Precinct 34 and 37. We have also started updating the most investor-friendly plot files of this project on our website. Be sure to visit our featured properties section to view the details of plot files from not only this project but all the major projects of Pakistan.
Contact Universal Property Network (UPN), if you are interested to buy a plot file because we are registered and authentic dealer of Bahria Town (Pvt.) Ltd.