Bahria Sports City Development of Precinct 34 and 37
by UPN
November 16, 2017
0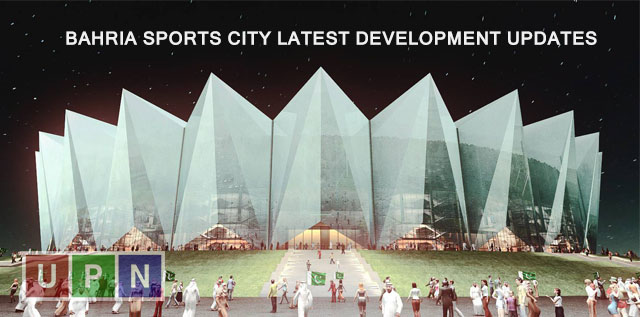 Bahria Sports City Karachi has been bit slower in progress comparatively for some reasons but now development activities are pacing up. Comprising of 15 precincts, Bahria Sports City is the largest project of Bahria Town Karachi having its biggest landmark Rafi Cricket Stadium. The entire project will be a jewel in the crown of Bahria Karachi once it gets completed. It seems that management has now decided to focus on development of its major projects with equal and undivided dedication. The following two precincts have seen some significant developments so we are updating you here about their latest situation and prices.
Precinct 34 Bahria Sports City
This precinct has the premium location among others in this project to take the maximum advantage of Rafi Stadium. The entire front of precinct 34 is adjacent to the stadium and from one side, it is connected with 400ft wide Jinnah Avenue. The property value will increase here with of the development of cricket stadium.
Precinct 34 Development Status
Precinct 34 is almost on ground in terms of development. Around 80% to 90% plot development has been completed so far. Roads are completed and street lights and poles have also been installed.
Precinct 34 Plots & Plots & Updated Prices
There is only one category of plots available here in this precinct i-e 250 Square Yards. These plots are now available at an own of Rs. 1,100,000 to Rs. 2,200,000 as per updated prices of today. Since this precinct has supreme location, the prices will increase further.
Precinct 37 Bahria Sports City
Precinct 37 is well positioned sharing its front partially with Rafi Stadium and largely with Jinnah Avenue. Located at the very end of this project, a considerable part of its land has been given for lush green parks. Moreover, natural landscape or terrain of Precinct 37 is elevated from other precincts which would enhance the beauty  and view of Sports City for Precinct 37 residents.
Precinct 37 Development Status
The heavy machinery is one the roll in this precinct and activities are going on with full force. Jinnah Avenue side has almost been leveled and now working in the rest of precinct is continued.
Precinct 37 Plots & Updated Prices
In this precinct 500 sq yard and 1000 sq yard plots are on-offer.
| | |
| --- | --- |
| 500 Sq Yards | Rs. 1,500,000 to 3,500,000 (Own) |
| 1000 Sq Yards | Rs. 3,000,000 to 5,000,000 (Own) |
Value Addition with Rafi Stadium
The development of Rafi Cricket Stadium is an added value particularly for these two precincts and overall for the entire project. The plot prices are inching up since its construction started and will continue to trend upward in future as well.
Possession Probability
Only 6 out of 16 quarterly installments have been paid, so at the moment there is no possibility of possession in near future. These precincts lies at the very end and precincts located at the start of Sports City will get possession first.
For more updates and queries regarding Bahria Town Karachi and its projects, please contact our realtors.