Bahria Sports City Villas & Plots Possession Handover by 13th March
by UPN
February 3, 2018
0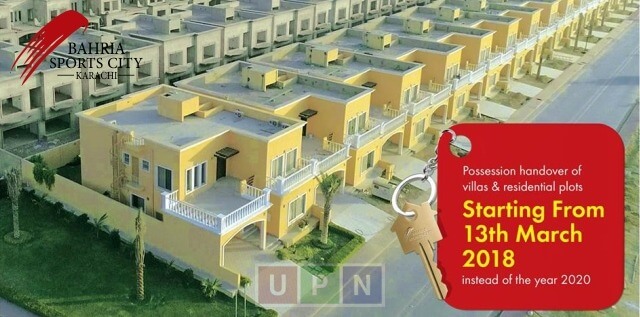 Bahria Town Karachi management has come up with a surprise for all those who have invested in Bahria Sports City villas and plots. Good news for all these customers of Bahria Karachi as administration has decided to handover possession of mentioned villas and residential plots from upcoming month. Delivering possession earlier than given time shows the dedication of Bahria Town Karachi for addressing the clients' needs. Earlier, possession was set to given in 2020 but upon customer demand, it will be in hands at least two years before than expected time. At this stage, Bahria Town Karachi has not revealed details about this but in any case, it is a great step welcomed by existing buyers.
Bahira Sports City Possession Handover Date Announced
Finally, the official date has been announced when possession handover for villas and plots of Sports City will start. The process will begin from 13th March 2018 so note down the date which is not far away now. The information came to light when shared from Bahria Town Karachi official page.
Bahria Sports City Plots & Villas Possession
As we all are well aware that Bahria Sports City features 250 sq yards, 500 sq yards and 1000 s yards residential plots and 350 sq yards villas. In the information shared by Bahria Town Karachi, they have clearly mentioned residential plots as well. However, they have not clarified that the possession will be handed over in phases (category wise) or precinct wise because not all plots and villas are completely developed.
Precinct 36 & Precinct 34 Plots Possession
As per expectations, plots in precincts 34 and 36 are developed and most likely to be awarded possession first if development is the criteria. We will get to know about confirmation and more details regarding this by the time and will keep you informed.
Bahria Sports City Villas Possession
Not all, but some villas are completely developed now and most probably Bahria Town Karachi will handover possession for only developed villas. The remaining ones will get possession only after complete development. Bahria Sports City villas are high on demand for offering ultimate luxury at reasonable price.
Bahria Sports City Development
The development activities in entire project are going on at rapid scale and construction of villas is continued. Development in these villas and overall in most of the parts of project is now has entered into the final stage.
In each category of Bahria Sports City plots, 7 out of 16 installments have been paid so far whereas only 5 installments out of 12 are still payable for villas. Property rates in Bahria Town Karachi are going up gradually but after possession handover, Bahria Sports City prices will have a significant raise.