Bahria Town Karachi Rescue & Relief Service -Bahria Town Latest Update
by UPN
February 4, 2018
0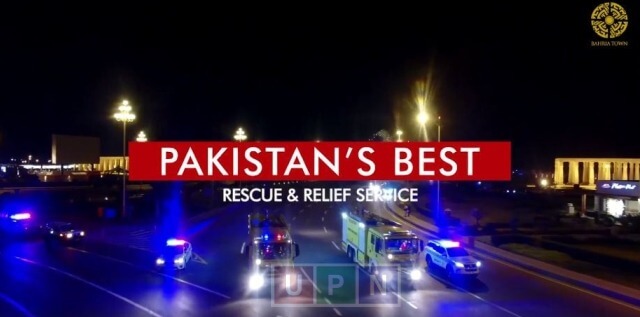 After proving its excellence in real estate for more than a decade, Bahria Town recently entered into financial sector by taking over Escorts Bank. Adding more diversity to their services, now it has another new beginning to its credit for the welfare of mankind. Already a few public welfare projects have marked huge success under its banner, but now it has gone an extra mile to help fellow countrymen. Bahria Town Karachi Rescue & Relief Service is ready to serve humankind with great passion and of course by the help of highly trained and well equipped team of individuals.
Bahria Town Karachi Rescue & Relief Service
Bahria Town always stands on top as it's not just a real estate group only but helpful to the people of Pakistan as well. Besides providing high standard health care services through latest equipped hospitals in Bahria Town chapters, it has always offered its support whenever needed. Bahria Town Karachi Rescue & Relief Service is an excellent step to lend a hand for people in emergency situation of affected by disaster.

Any Time Any Where – For All
The best thing about Bahria Town Karachi Rescue and Relief Service that it is not limited to a confined zone or area of the city. This service is for all anytime (24/7), anywhere as its rescue officials are always geared to serve people.
Best Equipment, Latest Technology
The BTK Rescue & Relief service is packaged with best of equipment integrated with latest technology which has tendency to cope up with the greater challenges.
Well Trained Staff, Quickest Response Time
The response time for action from rescue services is what matters the most in any emergency cases. With the quickest response time, Bahria Town Karachi Rescue Service officials arrive for the help on time for relief activities. These officials are well trained and experienced to deal with any sort of intense situation in their respective domains.
Indeed, Bhaira Town Karachi Rescue & Relief Service is a great initiative and will prove quite effective for people in the time of difficulties. It can emerge as Pakistan's best rescue and relief service.
For latest updates and happenings of Bahria Town Karachi, please keep visiting Universal Property Network (UPN).