Bahria Town and DHA Give Allotment Letters Instead of Registry But Why?
by UPN
July 29, 2020
0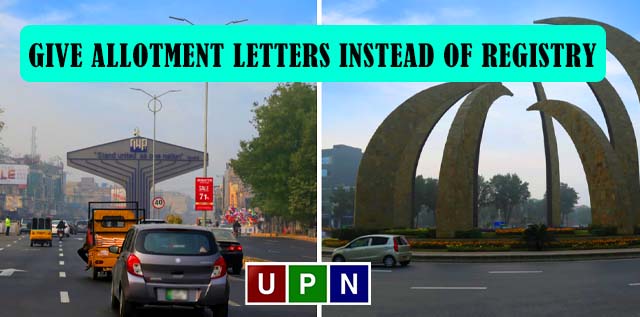 Bahria Town and DHA are both big and well-known names in the real estate industry of Pakistan. These societies are known for being the most luxurious and safe housing options. Offers countless investment and living opportunities, both these big developers have smartly extended their projects across the country. Bahria Town and DHA have developed their luxurious housing societies in Lahore, Karachi, Islamabad, Peshawar, and much more. So, anyone who desires to live in his city but also in the most attractive housing project can confidently become the resident of it.
But despite many attractions and facilities, these societies are still not so attractive for many investors. The reason is the issuance of allotment letters, not Registry. Also, this is the most commonly asked question that why Bahria Town and DHA give allotment letters instead of Registry? If you are also thinking the same and looking for a satisfactory answer, let's discuss it in this latest write-up!
Why Bahria Town and DHA Give Allotment Letters not Registry?
Bahria Town and DHA issue allotment letters, not Registry, to keep their projects as best as possible. Allotment letters but not the Registry means the developers are the complete owner of this project.  By holding the total charge legally, Bahria Town and DHA are brilliantly maintaining everything in their societies. They offer an uninterrupted supply of basic utilities, which makes them best to live. There are proper construction by-laws to construct a house in DHA and Bahria Town Lahore, so no one can break the law and extend his home on pathways and footpaths as it happens in the small streets of our country.
Societies such as Bahria Town and DHA are developed with a wide network of roads, green belts, beautiful pathways, and jogging tracks. Proper security and CCTV Cameras monitoring also attract to become a resident of such as safe and secure housing projects.
In simple, by keeping the legal charge of the society, DHA and Bahria Town are offering unmatched living facilities and profitable investment opportunities to everyone.
What is the difference, the best one, and what is the legal Status of Registry and Allotment Letters?
Traditional Registry means you are the registered owner of the property in government's documents, while the allotment letters suggest that the property is allotted to you by society.
Reliable society's allotment letter is better than the Registry. Otherwise, the Registry is better. There are no merits or demerits; in some cases, the Registry is important, while the allotment letters are very important in many cases.
Registry documents are issue from land revenue departments while allotment letters issue from development authorities and private housing societies. So, both of these have legal value.
For further queries and details, contact Universal Property Network!
Check out our site for more detail. Latest News