Bahria Town Karachi Announced 100% Refund Policy for Disputed Files – Latest Update
by UPN
November 22, 2019
0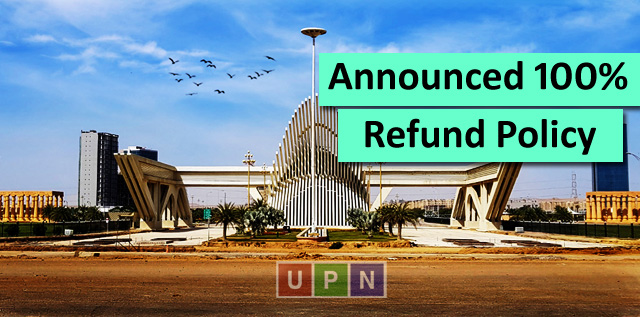 Bahria Town Karachi – Latest Update
Bahria Town Karachi offers countless opportunities for ideal living and profitable investment to its valued customers. Even the administration also thinks about the ease and affordability of interested clients.
And now once again Bahria Town has proved its care and preference with its recently announced 100% refund policy. Yes, today UPN is bringing the very good news that "Bahria Town Karachi has announced 100% Refund Policy for disputed files" of the project.
Bahria Town Karachi 100% Refund Policy Details
This Refund Policy applies to all the disputed precincts of Bahria Sports City, Bahria Paradise, and other disputed/non-possession precincts. These precincts all include the non-developed areas of old BTK and Valley Block. Moreover, this 100% Refund Policy will be also applicable with the immediate effect on all canceled/blocked files.
Following Precincts of Bahria Town Karachi Are Partially Or Fully Non-Possession/Disputed:
Precinct 15A & Precinct 15B
Newly Designed Precinct 29, 32, 33 (A, B, C, D)
Precinct 33
Precinct 38 to Precinct 45
Moreover, Precinct 46, 48, 51, 52, 53, 54, 55, 56, 57, & Precinct 58 are also included.
Valley Block (A, B, C, D).
100% Refund Policy & Valued Customers
Bahria Town Karachi has announced this 100% Refund Policy for the convenience of its valued customers.
This policy is now applicable and the last date to apply for a refund is not yet announced. This is definitely big news for those affectees who purchased the plot files on disputed areas.
How Can You Apply For Refund Policy?
The procedure for applying to this 100% Refund Policy of the disputed files is very simple.
First of all, the owners of the plots file will have to visit Bahria Town Karachi Head Office along with all the original documents.
Staff at the Bahria Town's Head Office will guide you with further procedures. However, it is confirmed that it will only take 7 to 10 days in all this refund procedure. And you will get a 100% refund amount without any deduction. 
Those living abroad can also apply for the refund of their amount by using the "Power of Attorney" option.
Bahria Town's 100% Refund Policy is worth appreciating as it speaks loud of its customer care and customer-friendly policies. Bahria Town always provides its customers with the best relaxation and ease in all Property Dealing.
Check out our site for more detail. Latest News
For more updates, further details, and information, contact Universal Property Network.