Bahria Town Karachi Arrangements for Sacrificial Animals on Eid-ul-Azha
by UPN
August 16, 2018
0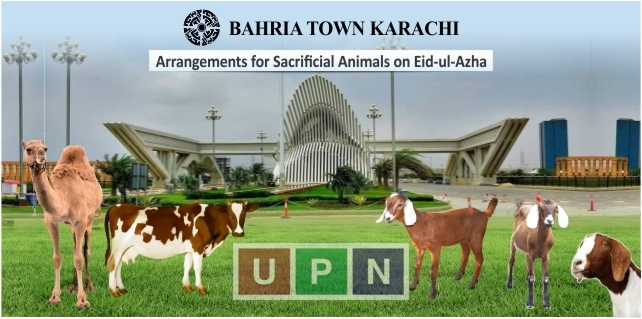 Bahria Town Karachi is committed to facilitate its residents throughout the year especially on festive times. The biggest occasion of all Eid-ul-Azha 2018 is coming up and Muslims will sacrifice animals for Almighty ALLAH as their religious ritual. Bahria Town Karachi is facilitating residents to keep and slaughter sacrificial animals with their services. The management has done with the plan and arrangements have been finalized for this purpose.
Sacrificial Animals in Bahria Town Karachi – Where to Keep & Slaughter
Bahria Town Karachi has made central cattle pens and slaughter points at two different points.
Precinct 1 (Overseas Block, Street 9, near Aashiq Masjid)
Precinct 19 (near Tower 24)
The residents can bring their sacrificial animal in Bahria Town Karachi at these above mentioned cattle pens from 17th August, 2018.
Facilities and Services Available for Sacrificial Animals
Bahria Town Karachi is providing following facilities and services for sacrificial animals at these points. Charges of keeping these animals brought in for Eid-ul-Adha will be on per day basis and will vary. The facilities and services provided to these animals at these points are listed below.
Shade
Fodder
Water
Cleaning of Area
Security
Per day charges to keep these animals before Qurbani with all these facilities are:
Camel: Rs. 1500/-
Cow/Ox: Rs. 1500/-
Goat/Sheep: Rs. 600/-
Charges of Butchers for Slaughtering (Day Wise)
For slaughtering of animals, butchers will be arranged and their charges will be different day-wise.
| | |
| --- | --- |
| Ist and 2nd Day of Eid | 3rd Day of Eid |
| Camel  Rs. 13,000/- | Camel  Rs. 11,000/- |
| Cow/Ox  Rs. 8,000/- | Cow/Ox  Rs. 7,000/- |
| Goat/Sheep  Rs. 3,000/- | Goat/Sheep  Rs. 2,500/- |
Important Instructions for Residents on Eid-e-Qurban
Keeping animal in houses, apartments, shops or offices premises is strictly prohibited. Those who will violate this rule will be fined for violation.
The management of Bahria Town Karachi will not be responsible if an animal dies in its Cattle Pens.
Charges for both butcher and cattle pen will be paid in advance.
The owner will be responsible for shifting of animals from carrier/transport to cattle pen.
A token that will be issued by Bahria Town Karachi security against each animal before bringing in to the cattle pen is mandatory.
Bahria Town Karachi is responsible for disposal of offal after slaughtering as a part of cleanliness.
Celebrate this Bakra Eid with religious fervor and spirit in Bahria Town Karachi and keep your environment clean. Avail these exclusive services offered by Bahria Town Karachi in their drive for Eid-ul-Azha 2018. Universal Property Network (UPN) wishes you all a very happy Eid in advance.
For more details and information, keep visiting Universal Property Network (UPN).