Bahria Town Karachi Precinct 28 – Development Overview and Map Changes
by UPN
August 19, 2018
0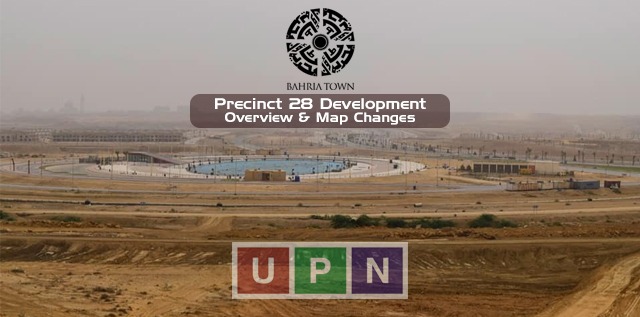 With the passage of time, Bahria Town Karachi is on its way to rapid development to shape up as best residential community. The 125 sq. yards residential plots, which is the least cutting offered in this project, is still buyers' favorite market. From Ali Block to Precinct 31, these plots are available in several precincts at different prices. The prices vary on the basis of the location and development status. Since Ali Block and Precinct 16 are at premium location, plot prices are relatively higher there. But there are some precincts which are at prime location and still available in affordable price range just like Precinct 28. Let us see what's happening there in development activities and recent changes.
Precinct 28 Development Overview
Development is underway in Precinct 28 at reasonable pace and road network, streets are almost near completion. Installation of other basic necessities like electricity and water pipelines are expected soon. Heavy machinery is working on site and soon all plots will be completely developed and ready for their owners. In such scenario, we are advising the existing buyers to hold their plots now and those who are willing to buy should not take more time to get in the re-sale.
Precinct 28 Map Changes
Precinct 28 map changes is abuzz in the market but hold on buyers, it won't be affecting your plots anyway. The said revision is all about change of street plan and it will not create an adverse impact necessarily. The revision or shuffling of plots is not on the cards so existing and future buyers should be at ease. The revised map will be released soon and will be updated on our website in maps section.
Precinct 28 Plots Prices
Precinct 28 plots prices ranges in Rs. 18 lacs to Rs. 30 lacs bracket which is quite economical. The location is just superb near Bahria Dancing Fountain Karachi, main attraction of Bahria Town Karachi. With such factors, Precinct 28 plots are ideal for investment in the recent scenario and recommended to be held and buying in future.
For more information and updates, keep visiting Universal Property Network (UPN).