Bahria Town Karachi Head Office Announced Eid Holidays – Latest Update
by UPN
June 1, 2018
0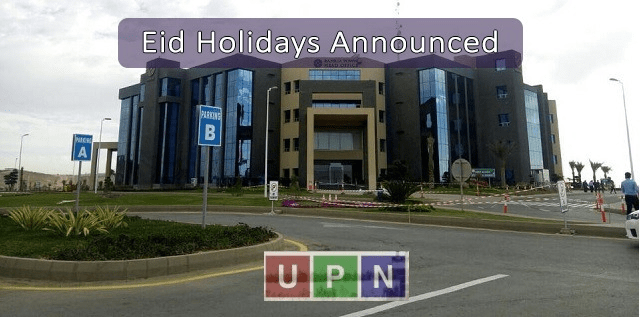 The month of Ramadan is half way through and the festive occasion of Eid is around the corner. A number of operations and procedures are accomplished or you may say associated with Bahria Town Karachi Head Office on daily basis. Like any other office of public dealing, Bahria Town Karachi has also informed its customers about Eid-ul-Fitr holidays. The said office has just announced Eid Holidays of more than a week before time to avoid any inconvenience to its customers.
Bahria Town Karachi Head Office Eid Holidays
Bahria Town Karachi Head Office has released Eid Holidays notification and informed its customers about the closure on the respective days. Bahria Town Head Office Karachi will remain closed on account of Eid-ul-Fitr Holidays from 14th June (Thursday) to 24th June (Sunday). All operations and services will be unavailable during Eid Holidays for general buyers, investors and authorized property dealers. The office will reopen for all services and operations on 25th June Monday for facilitation of its customers.
Please note that current timings (screwed) are only for the month of Ramadan, the office timings will be same as previous with 9:00 PM to 5:00 PM as operational hours.
Advice For Bahria Town Karachi Customers
Almost two weeks are left, so all customers are advised to wrap up their tasks as soon as possible to avoid rush in the last days. Since after the office will open after a week from Eid Days, please keep in mind that these are routine Eid Holidays as usual so don't consider it negatively to cause panic in the ranks. Like all others, management and staff members of Bahria Town Karachi deserve to enjoy this happy occasion with their loved ones.
Universal Property Network wishes a blissful Eid to all in advance. For more updates and latest information, please keep visiting Universal Property Network (UPN).