Bahria Town Karachi Precincts 6 and 8 – Time for Buying and Construction
by UPN
May 30, 2018
0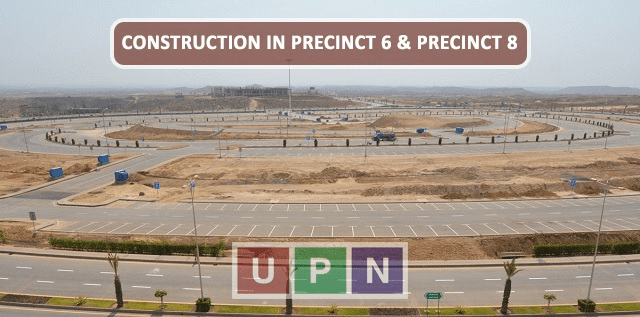 The inhabitation in Bahria Town Karachi is increasing by time and expected to rise more in the upcoming months. A number of families have moved to this mega community in the recent past and it is benefitting the nearest precincts. The development and delivery of possession are also the contributing factors for these precincts. Precinct 6 and Precinct 8 are the prime examples to mention here where it is ideal time now for buying and construction.
Location of Precinct 6 and Precinct 8
Generally buyers wish to buy properties in those blocks which are near to main entrance or have easy access to there. Precinct 6 and Precinct 8 are not far away from the entry point of Bahria Town Karachi. Precinct 6 does have Midway Commercial, Bahria Town Head Office and Theme Park in the close proximity. Precinct 8 is just above the ground level at walking distance from Precinct 6 and both precincts shares almost the same location benefits.
Geographical Importance of Precinct 6 & Precinct 8
On the extreme left of Precinct 8, Precinct 10 comprised of some 1800 houses in which families have started living. In Precinct 11, some five to six thousand houses have been built by Bahria Town administration and started taken the charge. Bahria Heights apartments are also nearby where people are enjoying height of luxuries in apartment living. All these points combined are value addition for these precincts and enhancing its geographical significance.
Precinct 6 and Precinct 8 Plots
Both precincts feature only 250 sq. yards plots in the entire arena with no other cutting available. Currently, these plots are available at reasonable price (Rs. 30 Lac to Rs. 50 Lacs) which varies on the basis of their exact position.
Ideal Chance for Builders and Investors
For builders and investors, it is a golden chance to buy these plots on affordable rates and start constructing houses on it. Rates won't be the same and will go up quickly in upcoming months when the area and surroundings will witness more inhabitation. In either case, it is an opportunity worth investing for being quite advantageous.
For buying 250 sq. yards plots in Precinct 6 & 8 Bahria Paradise Karachi, please feel free to contact our realtors for complete guidance and consultancy. Keep visiting Universal Property Network (UPN) for more information and latest updates.