Bahria Town Karachi Precinct 12 Ali Block 125 Sq. Yards Plots Available
by UPN
August 3, 2018
0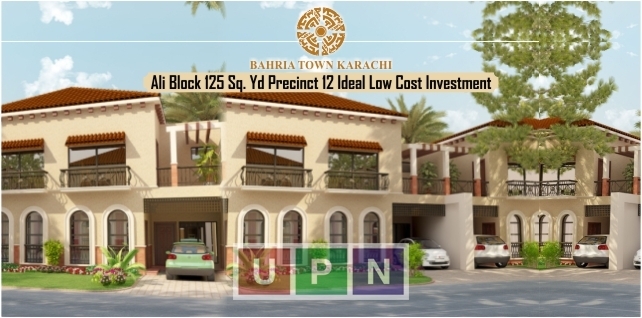 Ali Block of Bahria Town Karachi also commonly known as Precinct 12 holds great importance among buyers. We've seen huge investment here in the past and this particular block keeps getting popular every passing day. As per Bahria's planning, there are various plot sizes on the map and the location of Precinct 12 holds great importance.
Location of Ali Block in Precinct 12 Bahria Town Karachi
It would not be wrong to say that the society has been planned carefully and the architects have ensured that no precinct stays in the dark. The management has played a vital role in ensuring that buyers get maximum value for their money invested here. The 125 Sq. Yards cutting in Precinct 12 has been done with perfection. Ali Block holds greater importance in 125 Sq. Yards category because it is located in the very start of where the said category begins. Therefore, owners here get the prestige of living very close to the important landmarks and attractions of the society.
The Four Corners of Ali Block
Standing in the block facing Main Jinnah Avenue, you have pleasant views on all the 4 sides. Here's how we classify the four corners of Precinct 12.
On the front right: Bahria Golf.
On the front left: Bahria Grand Mosque
Front facing: Precincts 15 A, 15 B & Precinct 14 one of the most precious precincts.
Back: Bahria Heights
This is just an overview; the actual beauty can be witnessed on site. Owing to the location and its surroundings, it is an area worth investing and is certainly the first ones where people have started living. If you are considering to buy and move in here, it will not be a problem because there are already many residents living a happy life here. Bahria Town Karachi management has already handed over the keys to successful owners who have cleared all dues. Development work is complete here so you can apply for all utilities when constructing a new house. Construction is not an issue here and it's just rumors that can't design your own house. You are free to choose whatever design you prefer only you have to get it passed from the management which is also not an issue.
How to Buy a 125 Sq. Yards Plot in Ali Block
Universal Property Network is a trusted name in sale & purchase of property in Bahria Town Karachi. Being an authorized dealer, your investments thru us are 100% accurate and trustworthy. Our realtors and consultants can guide you & find you the property of your choice within your budget. Being active in the real estate sector since the last 15 years, you can contact us with confidence. Bahria Town announced a plot here at Rs. 30 Lakh. Today the plots are being traded at a profit of Rs. 10 Lakh to Rs. 15 Lakh based upon location. In short, you can get a plot in Ali Block from Rs. 40 Lakh to Rs. 45 Lakh