Bahria Town Karachi Precinct 30 Best for Buying 250 Sq. Yards Plots – Bahria Town Karachi Latest Update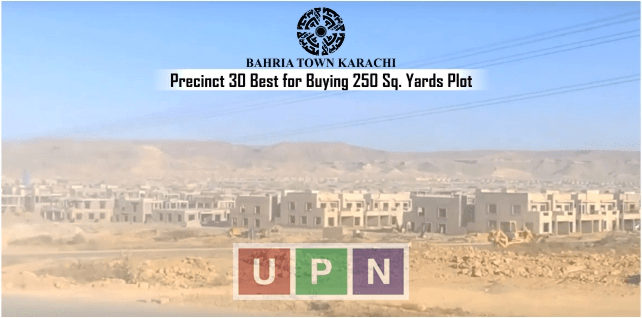 Bahria Town Karachi is a city within a city (Karachi). Bahria management has vowed to provide Karachi with a model city that would be a model for all to follow in future. Since the announcement was made, people of Karachi had been demanding its inauguration and when it was finally inaugurated, investors, customers and builders have all flocked here. The housing scheme is a state of the art project and it cannot be compared to any other project in the country. It has the most beautiful landmarks you could ever wish for and the security and facilities you get here are simply unmatched.
Bahria Town Karachi 250 Sq. Yards Plots in Precinct 30
As we all know that Bahria Town Karachi management has named its sectors in an unusual fashion this time. Instead of naming the traditional way, it has adopted the western style this time and named them 'Precincts'. Precinct 30 is a section of the scheme housing 250 Sq. Yards plots that are ideal to construct a luxury small family house. The entire project is designed to provide an outclass lifestyle to every Pakistani living in Karachi. One can find plots sizing to construct a farm house, a villa and a family home too. So, it does not matter if you aren't a billionaire, you can still own a 250 Sq. Yard house in Bahria.
When looking to purchase a house or plot, precinct 30 cannot be ignored because of the many amenities you can get here. Precinct 30 totally consists of 250 Sq. Yards plots. Bahria Town has its own standards which ensure that every resident gets the same amenities hence precinct 30 has multiple parks, a huge mosque and a commercial market block all to itself. Now let's discuss the rates here and if it is a worthy place to invest. Launched on 27 Feb 2013 the booking price was around Rs. 28.5 Lakh. Since then the prices have been rising as its demand grew.
Owing to the ever-fluctuating prices, it is advisable that you contact directly to our realtors for confirmation of current prices. This precinct is a hot item among investors and customers. You can see very clearly in the Map of Precinct 30 why we advise you to invest here. Development status is very appealing because the project is being developed at a rapid speed. It is situated on the Jinnah Avenue enabling easy access to Bahria schools, colleges, hospitals, markets and all the landmarks. It is an ideal location for your next future home. Its time to break out from the old, rushy and messy city and start living a luxury life in precinct 30 of Bahria Town Karachi.