Bahria Town Karachi Precincts 23, 24, 25 & 26 Ideal for Investment Now
by UPN
July 30, 2018
0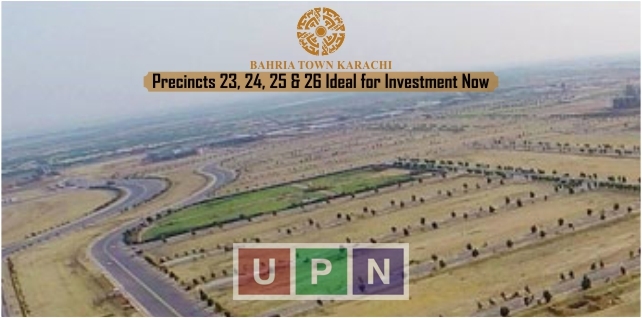 Bahria Town Karachi provides ideal opportunity to people from all walks of life to invest and own their dream homes. With plots as small as 250 Sq. Yards to plots as huge enough to build a farm house and also flats both big and small, anyone can buy property here according to their position. Precincts 23, 24, 25 & 26 are worth mentioning here because of the 125 Sq. Yards plots they have to offer. Being the smallest in the project but enough for a family to happily settle in. The plots are ready to be bought and build a luxury house.
Location of Precincts 23, 24, 25 & 26
The location of Precincts 23, 24, 25 & 26 within the society is ideal. Everyone loves parks and each precinct has its own set of parks carefully planned to avoid overcrowding and allow the residents to have a stroll in the open air. There are mosques too so that the residents won't have to travel much to pray. The commercial area isn't too far as we speak for all the mentioned precincts. Bahria is all set to make its commercial area so great that no one will have to go outside to buy anything. It will be a city within a city.
Another major reason to choose your new 125 Sq. Yard plot in the said precincts is because they are all very near the Eiffel Tower. When completed, it will be a major attraction and will have plenty of visitors. Before planning the final locations of landmarks, the management has ensured they are at a safe distance from the homes around it to avoid any problems to its residents. The security around landmarks is impeccable so the residents of the said precincts do get a share of added security which is a plus point. Imagine living close to an icon of prestige, your friends and relatives will have an extra excuse to visit you more often.
Price of 125 Sq. Yards in Precincts 23, 24, 25 & 26
Owning a plot in Bahria Town means that you have achieved something that the rest of the people couldn't do. Without a doubt fulfilling your dream also means that you have the money to invest. Fortunately investment in Precincts 23, 24, 25 & 26 is not unthinkable because the rates here are affordable. One can easily buy a plot here for as low as Rs. 20 Lakh, Rs. 25 Lakh and as much high as Rs. 28 Lakh depending upon location. Since real estate prices are not constant always it is advised to consult our expert realtors to learn about the latest prices.
UPN Can Get You the Best Deal
Universal Property Network is one of the most prestigious and trustworthy organization in Pakistan Real Estate Sector. We are actively working for over 15 years now. We encourage you to contact us before making a purchase in Bahria Town Karachi. Our experts can enlighten you with the latest insights, property rates and give you updates that will benefit you when making a decision. We are authorized property brokers in Bahria Town Karachi and we value quality over everything else. Your investment thru us will always be safe and the best you ever make. You can contact us anytime and our experts will happily welcome you.