Bahria Heights Karachi 2 Bed Apartments – Investment Opportunity Update
by UPN
July 31, 2018
0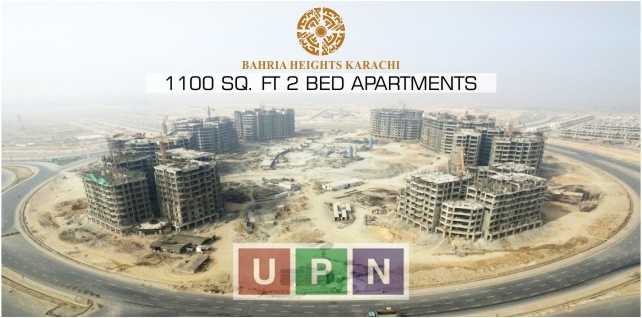 Bahria Town Karachi management announced the location of flats primarily named Bahria Heights Karachi around 4 years ago. Total price for a 1100 Sq. Ft, 2 bedrooms flat announced at that time was Rs. 50 Lakh. Knowing the high standards of Bahria construction and the amenities it provides, the files were booked in advance and it became a huge success. The flats are ideally located in the society with the front block facing Main Jinnah Avenue. It is the main boulevard of the society and has access to entire Bahria. Every landmark and commercial areas are linked to the Main Jinnah Avenue hence it holds great importance in the entire project.
Development Status in Bahria Heights Karachi
Announced 4 years ago, development started a short time later. Today the grey structure is almost complete. It would not be wrong to say that around 90% – 95% of all the flats structure is visible and are nearing completion very soon. Decoration work on model house has started and as it completes, prices would soar very much indeed. Bahria Town is known for its high standards, impeccable quality and delivering what it promises. Although the real estate market in the country is not yet stable, but investment opportunities in Bahria Town Karachi are still ample.
Buying a Flat in Bahria Heights Karachi Today
If you are considering investment in Bahria Heights Karachi today then it is not a wrong decision. You should invest in a flat or two (if you can afford it) because of the various reasons.
Grey structure is nearing completion which will give a boost in prices once grey structure is complete.
Model flat is nearing completion and once it is complete, it will give another boost in prices.
Once finishing work is started in Bahria Heights investors can expect another chance of a boost.
Finally when the flats are ready to live in, we all know how prices soar when the project is finally complete.
These are some of the steps still remaining to give the prices a boost. The amount that will be boosted is unpredictable so only time will tell.
At this stage flats are available for purchase at old prices but a profit is being charged which ranges from Rs. 10 Lakh to Rs. 15 Lakh. The wide difference is based upon the location of the flat. The ones facing Main Jinnah Avenue are relatively expensive than the ones located in the inner circle. Since it is a block of flats, not all flats are directly facing the boulevard. Owners of flats in the inner circle need not panic because on the left side is Precinct 8 and on the right side you can enjoy the aerial view of the Grand Mosque.
You are welcome to contact our expert realtors for availability of flats and more investment opportunities. Universal Property Network is an authorized dealer in Bahria Town Karachi. Your investments are guaranteed and safe.