Bahria Town Karachi Second Entrance and 300 ft. Iqbal Avenue Development
by UPN
August 20, 2018
0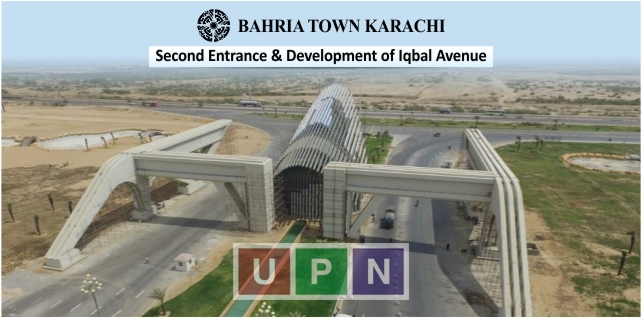 The pace of development has been set in Bahria Town Karachi and now it is moving ahead towards completion. Earlier when Bahria Town Karachi's master plan was unveiled, there was a 300 ft. wide road included as proposed one for future. Till now, the mega residential community only had one main entrance to get in to this gated community. There is no alternative or second entrance (Gate 2) which is ultimate need for a housing project of this scale. The latest development of Bahria Town Karachi is about the new entrance and construction of a 300 ft. avenue on the site.
Development of 300 ft. Iqbal Avenue in Bahria Town Karachi
Good news for Bahria Town Karachi residents that soon their properties will be easily accessible through another avenue. The 300 ft. wide road Iqbal Avenue which was proposed in the master plan is now becoming a reality. The construction work has been started and 40% of initial working has been completed for this road till Usmania. At the aforementioned point an overhead bridge is also in the plan. This avenue starting from the left of Precinct 1 near the boundary wall will pass alongside Precinct 4, Precinct 7, Precinct 10, Precinct 11, Bahria Golf City (P20), Precinct 22, Precinct 23 and other precincts till the end. The development of this road is continued rapidly which is a good sign for future.
Impact of Bahria Town Karachi Second Entrance on Precincts
The precincts mentioned above are at a side in Bahria Town Karachi and some buyers were not happy with this placement. Now new development of this second entrance route via Iqbal Avenue will be quite relieving. Those who were complaining upon getting plots and properties in precincts which are at side, should not have any issue now. This development will be create a good impact for accessibility to their property as well as their value addition. With this, they would have double approach from each side which will give an edge to their properties.
For more information and latest updates, stay connected with Universal Property Network (UPN).