Bahria Town Karachi Towers Ideal for Investment – Bahria Town Karachi Towers Latest Update
by UPN
July 20, 2018
0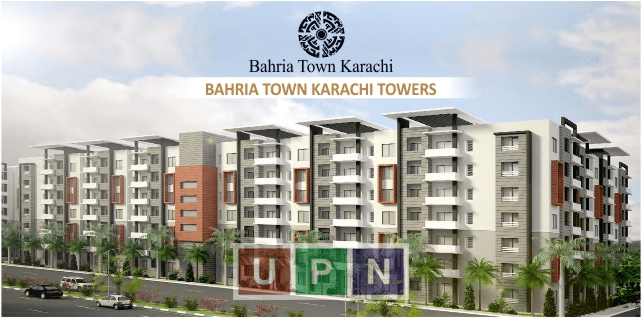 Bahria Town Karachi is the best investment scheme among property enthusiasts. It is a confirmed safe investment that is bound to get you huge profits within a short time. Investors are flocking to Karachi to invest in Bahria Town. Even genuine buyers can be seen trying to buy a file to avoid the price hike which is confirmed. The project has something for everyone for the people of Karachi. If you want a land to build a villa, a 5 Marla house, a commercial plaza or a shop or even a flat, this scheme provides everything that you will need to fulfill your dreams.
Bahria Town Karachi Towers
Bahria Town Karachi launched a precinct for flats that are present on its most sought after commercial locality the Jinnah Avenue. Known as the Bahria Towers Karachi, these flats are equipped with the most modern amenities bringing shame to the all the so called best flats present around the city now. Not only are these flats situated in the best position (location), they are ideal for every family and the best option for a safe future investment. Since Bahria Town always has its own underground electric supply there are no messy overhead wires which are often a hindrance to flat owners.
Development of Flats
A total number of 26 towers were announced and out of these 24 towers have already been sold out to the roof. The structure has been erected and interior works have been initiated. The flat owners already have their possessions and these flats would be ready to shift in by the end of the year. Tower number 25 & 26 have got their chance to be finally considered and files have been readied for sale. The towers are expected to be readied with all the promised amenities within a year. The files are out for sale now and if you are interested in owning one of the best flats in Karachi then the time is now.
Sale Purchase of Flats in Bahria Town Karachi Towers
If you are interested to invest and earn a huge profit in a very short time then you are welcome to visit our site office. Buying options are open for towers 25 & 26 without prejudice and we will arrange you the flat of your choice. The price of a flat is around Rs. 44 lacs to Rs. 45 lacs which are a very reasonable price considering the benefits that will be available. Corner apartments are also available within the mentioned price so it is the best time to book a flat and enjoy living in it by next year. If You are interested in Buying & Selling Kindly Contact Universal Property Network.