Bahria Town Karachi Precinct 37 – Construction of Homes Started – Bahria Town Karachi Latest Update
by UPN
July 21, 2018
0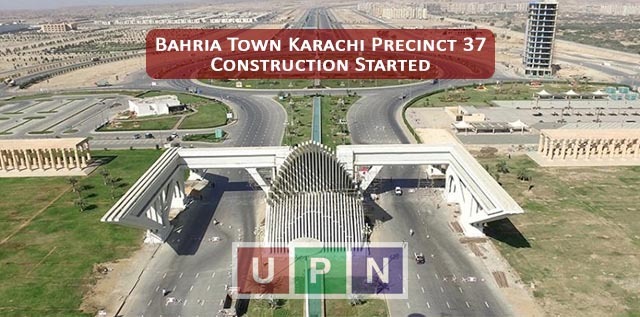 Bahria Town Karachi is living up to its words and the project is quickly being transformed into a ready to live locality. Just a couple of days ago Bahria Homes Karachi Balloting was conducted and files owners who were still awaiting their turn found a reason to breathe a sigh of relief. The mega project is quickly being inhabited and it is also giving the other investors a hope for a better future. As of now, precinct 37 has been cleared for constriction and file owners can now visit the head office to initiate the next process which would then allow them to start construction.
Why Precinct 37?
Before moving on, it is important to talk about the geographical location and the importance of this precinct. Precinct 37 has a wonderful location which is right beside the Bahria Sports City making it very close to the Rafi Sports Stadium. It is a bit elevated from the rest of the scheme which makes it very visible from all sides. Recently Bahria authorities announced making the Eiffel Tower as it has already built in the Bahria Town Lahore. Although it is future project, but it is speculated that the construction of the landmark will be initiated by the next year.
Precinct 37 is designed for the people who seek luxury. It has cutting of 500 Sq. Yards & 1000 Sq. Yards plots which are obviously for the elite class. Some of the plot owners have already got their NOC from the authorities and they have begun construction. If you come to the area you can digging in process in many areas as laying of foundations has started by the owners who have got their NOC. For investors, this is a great time to start investing as many files are available by the people who have put them up for resale.
If you are interested in buying a plot here you can do so easily by contacting our office or our realtors. We can arrange you files which are a lot cheaper than the ones that have been cleared and plots are ready for construction. If you are a file or plot owner in Precinct 37 and you are looking to sell, you can contact us for the best deal in town. Since the announcement prices have seen a greater spike and it is expected the prices will escalate a lot more. So, this is undoubtedly the best time to invest in the project and if you are simply looking for a good reward in short time investment we recommend you act now. Or, if you are a buyer who is looking for a good deal at old rates we are here to help you achieve your dream.