Bahria Town Has Reopened Offices from 15th April 2020
by UPN
April 16, 2020
0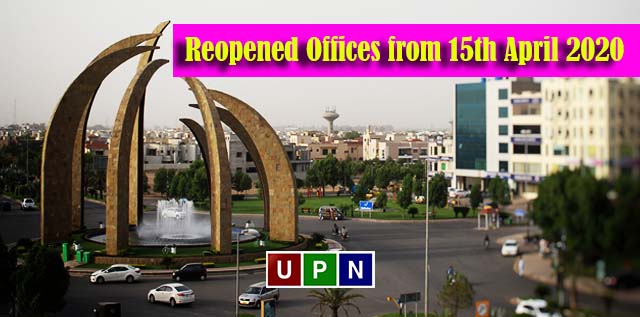 Federal Government has recently ordered the resumption of certain business activities especially the construction industry. So, Bahria Town Private Limited has also reopened its offices in all the major cities of Pakistan.
Bahria Town's management is determined to continue its routine business activities and development projects while
While continuing its routine business activities and development projects, Bahria Town Management is strictly following the special Standard Operating Procedures (SOPs) to minimize the risk of coronavirus spread.
Bahria Town has commenced its operations from Wednesday the 15th of April 2020. Bahria Town Head Offices in Lahore, Islamabad, and Karachi is now opened for all public dealings. Furthermore, the transfer services, the accounts department, design wing, possession wing, sale and marketing departments, etc. are also operational.
Staff at Bahria Town offices as well as all the visitors is maintaining social distancing. And also, it is mandatory to wear masks and gloves before entering any office of Bahria Town. Moreover, disinfecting sprays are also been installed at the entrance to ensure a sanitary office environment.
Now we are quite hopeful that the offices of other housing projects will soon open and normal business activities will resume in the country. We also hope that we will together fight against COVID-19 pandemic and soon win the battle against it.
Stay Updated with Universal Property Network!
Check out our site for more detail. Latest News