Bahria Town Surcharge Policy 2018 Announced – 100% Surcharge Waive Off
by UPN
April 23, 2018
4 Comments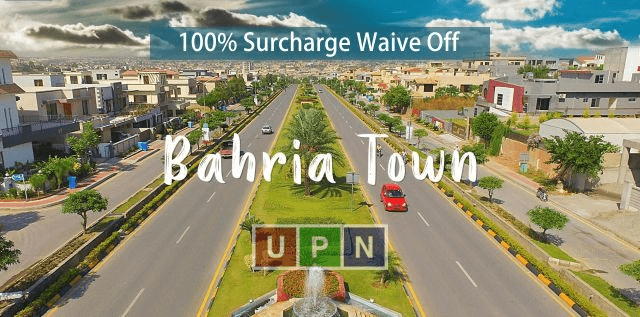 Bahria Town offers countless opportunities for ideal living to its valued clients and also thinks about their ease and affordability. Over the years, a number of instances have proved that Bahria Town has always valued its customers in many ways. The administration has always preferred the interest of its customers and proved it with actions and customer-friendly policies. Every year, it offers 100% surcharges waive off for a certain period of time and this year is no different. Now again Bahria management has initiated its surcharge policy.
Bahria Town Surcharge Policy 2018
For the convenience of its members, Bahria has announced its Surcharge Policy 2018. This policy is applicable now and will continue till 15th May, 2018 for all its projects across the country. Those customers of Bahria Town, who don't pay their due amount (installments) of an active plot, have to pay surcharge on late payments. But now this surcharge has been waived off.
100% Surcharge Waive Off
According to Bahria Surcharge Policy 2018, 100% surcharge waive off has been offered. All those customers of Bahria, who could not pay their payable amounts on time against active plots, are now advised to pay it till 15th May 2018 to avail this 100% surcharge waive off. As sometimes due to some uncongenial reasons Bahria Town customers are unable to pay their installments on time, so administration comes up with such policies on regular basis.
Bahria Town's Surcharge Policy is worth appreciating as it speaks loud of its customer care approach. It provides relaxation to customers and eases their burden without heavy fines.
To invest in Bahria Town Lahore and Bahira Town Karachi, feel free to contact our realtors. Keep visiting Universal Property Network (UPN).