Best Places to Buy Residential and Commercial Properties in Gwadar
by UPN
January 5, 2020
0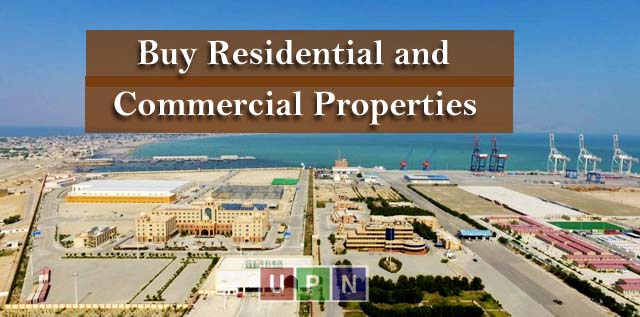 Gwadar Port City is now become one of the top investment options to earn best. It is developing on international standards of development that we are sure it will soon become the Pakistani version of Dubai. This seaport is catching the attention of investors not only in Pakistan but also in KSA, UAE, and China.
It has great importance for its ideal location. The development work in Gwadar is progressing rapidly. Gwadar will soon become a hub of world trade. And that's why it is already attracting investors seeking the best real estate investment in Gwadar. Development in the port city, especially, CPEC is opening new doors of possibilities in Gwadar. With the increase in development and port activity, a lot of people will soon move to Gwadar to find new opportunities. In return, the demand for properties will also increase in the port city.
To meet these needs, GDA is working brilliantly for the development of new residential and commercial projects. But still finding the right project to buy residential and commercial plots for sale in Gwadar is a big task. If you are also searching for the best societies that will cater to your needs, then let's find it together.
Top Residential & Commercial Projects for Plots
Here in Gwadar, the real estate projects on the top are:
New Town
 Naval Anchorage
 Sangar Housing Scheme
Coastway Residency Gwadar 
 Gwadar Golf City 
Kings Park Gwadar 
Gwadar Central 
All these are among the best, highly recommended projects. Investment in these projects is a good option as you can easily buy or sell your plots whenever you needed.
These mentioned projects are completely approved by GDA. The approval from the relevant authorities is very important for the satisfaction of investors. Prices of property are also affordable and flexible payment plans are making the investment in Gwadar more attractive and easy.
Let's discuss some important details of these societies:
New Town Housing Scheme Gwadar
It is a well-planned society comprises of four phases. The location of this modern society is ideal and strategic.  Development work of the society is progressing rapidly; even the construction of many houses can be seen on the site. Four main roads of Gwadar are passing through the society that increases the overall, value of property in it. The residential plots of 5 Marla, 8 Marla, 1 Kanal, and 2 Kanal are available in society. Moreover, the commercial plots of 8 Marla, 9 Marla, 16 Marla, 18 Marla and 2 Kanal are also a part of the New Town Housing Scheme.
Naval Anchorage Gwadar
The project holds significant value among all the other societies because it is the first residential project by Armed forces in Gwadar. It's another GDA approved society that is offering all the basic and luxurious facilities in it. It's a large housing project where more than 100 acres of land is reserved for green area. Located in the junction of Rakhshan Avenue and Coastal Highway, here you will find multiple options in commercial and residential plots. Here you can buy the residential plots in 5 Marla, 10 Marla, 1 Kanal and 2 Kanal on 3 years installment plan.
Sangar Housing Scheme
Sangar Housing Scheme Gwadar is a beautiful housing project spreads over a land of 2500 acres. It has 5 Phases. One of the main attraction of the society is its 3 sides are surrounded by sea and the one is connected to the mainland. Located on the top heights of mountains, the project is also the right option to buy the property. The residential plots available in Sangar Housing Scheme are 400 sq. yards, 600 sq. yards and 1000 sq. yards. The commercial shops available are from 100 yards sector shop to 5 acres.  
Coast Way Residency Gwadar
It is a project by Coast Way Builders & Developers. Located at the ideal location, the project is attracting investors by offering best plots for sale. Both the reasonable residential plots and high in demand commercials are available. Its commercials are more attractive and offering the best business opportunities. These commercials are available in two sizes, 100 sq. yards and 200 sq. yards. At the same time, they are divided into two categories Baluchistan Broadway and KECH Avenue Plots. The residential plots of 125 sq. yards, 250 sq. Yards and 400 sq. yards are also offered with a flexible payment plan.
Stay Updated with Universal Property Network!