Gwadar Master Plan 2019 Complete Details
by UPN
January 4, 2020
0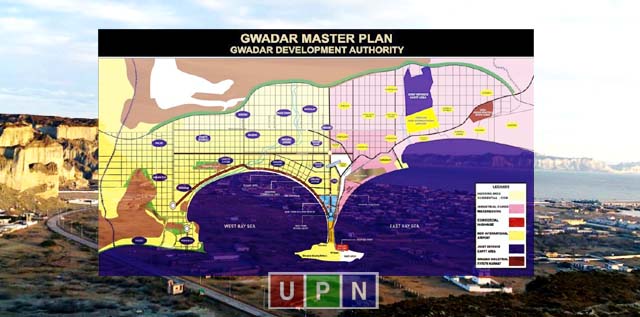 Pakistan's Economic Conditions are improving rapidly. Soon the development of Gwadar will play an important role in its betterment. Indeed, it is known to be the game-changing destination for the economy of our country. In this blog we discuss Gwadar Master Plan.
The area is not only valuable for Pakistan but also having importance for China. That is the reason that China is investing a lot in this place that is soon going to be the most useful trade ports of the world. CPEC that is the most important project in Gwadar will open numerous investments, employment, and many other opportunities for the people of Pakistan.
Moreover, if we only discuss the property sector of Gwadar, then you will find strong investment opportunities in it as well. That's why the government of Pakistan and China are working day and night to finalize this product by working with using modern tools & technology along with the latest developments plan.
Gwadar Master Plan                              
Gwadar Master Plan is the part of this modern infrastructure on which proper setup of roads and networks links all the areas of Gwadar. Indeed, it also allocates separate space for residential, commercial, and industrial spaces. Further, it shows the currently built-up areas as well as the details of all the future developments.
Importance of Gwadar Master Plan
This Master Plan of Gwadar is very much important for many reasons but especially for those who looking to invest in Gwadar's property. It is the first complete plan which explains the overall structure and development plan of Gwadar. Actually, it's a proper designing, planning and developing the structure of modern Gwadar. Once it will be finalized, there will be attractive business, employment, investment, and trade opportunities in Gwadar.
These days, the Government of Pakistan is working brilliantly for the development of Gwadar. They are inviting the general public as well as foreign investment to invest in Gwadar. That's why this master plan of Gwadar can help the investor to invest with better understandings.
Let's discuss this plan in detail!
Gwadar Master Plan 2019         
It's a grand plan which covers the area need to develop to facilitate Gwadar port. To understand this plan, it is important to have the complete map in front of you that is available on the official website of the Gwadar Development Authority. Here, the link: http://www.gda.gov.pk/maps/
 The area covered with a red dotted boundary is the whole area included in the master plan. However, there are many sub-divisions to describe the details of the land. Like, the yellow area shown on the map is basically the residential spaces with societies and more!
Further, some prominent points of Gwadar Master Plan are:
Port Development & Economic Free Zone
International transport links, including the international airport
Infra-structure, including major road-network
Electricity & Water Supply
Industrial & Manufacturing Developments
Commercial developments
Residential developments
Utilities, including Water, Sewage, Gas & Electricity
Food Production & Supply
Facilities, including Healthcare, Educational, Religious, Sports & Recreational
Telecommunications, including high-speed internet
Security, including important Measures to Storms
Tourism Developments
Sustainability & Ecological Projects