Is it Safe to Invest in Private Builders Projects Bahria Town Karachi?
by UPN
November 2, 2021
0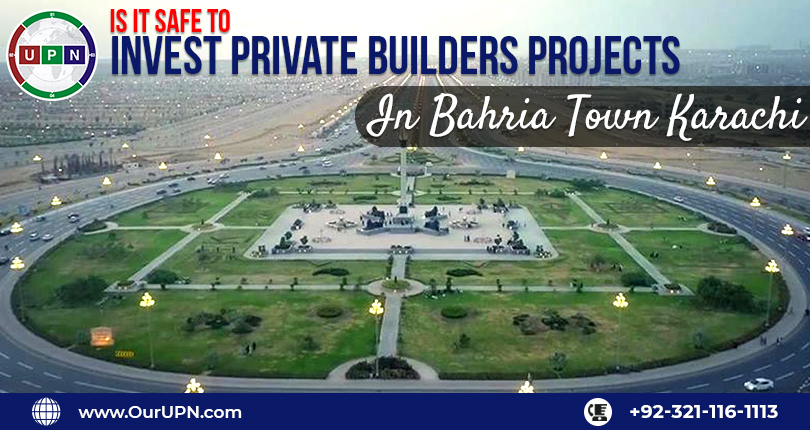 Everyone wants to invest in Bahria Town Karachi and desire to buy property on installments. Society's installments plans are complete, and things are only available in private builders' projects in Bahria Town Karachi. But whenever the word "Private Builders" comes, people hesitate to invest. Whenever a person spends some pennies, even on groceries, he double-checks the price and product's quality. So, here in property, it's a game of millions. Investors always desire to invest in a secure property and will offer good returns in the future.
Therefore, the question is, "Is it safe to invest in Private Builders Projects working in Bahria Town Karachi? Yes, it is secure. But only invest in the following properties/projects discussed below:
Private Builders Projects Bahria Town Karachi
Well-Known Builders
Buying in private builder's projects is only beneficial when you invest in a well-known builder project. A builder maintaining a good reputation in the market always offers you a attractive and beneficial property. Moreover, he will never lie or commit fraud which will surely damage his reputation.
Previous Work History
Also, do check the previous work history of the builder before investing your money in any property. For this, you can research by asking about the credibility and history of builders to different real estate firms. Builders who have delivered projects in the past will surely hand you the property they offer on easy installments.
Comparison of Prices
One another important thing is the comparison of prices. Before investing your money in any of the private builders' projects, do compare the prices of properties they are offering. Why? Because a builder who had genuinely delivered the project will not sell you anything less than the market prices. Attractive posters, brochures, or tv ads have nothing to do with reality. Get property information of the market and the current prices before buying anything, even on installments.
Top Private Builders Projects Bahria Town Karachi
Some of the well-known Private Builders are:
AQ Builders
Dominion Builders
Ali Saqlain Builders and Real Estate
Californian Builders
There are many other big and small names but listing out all in a single blog post is quite tricky.
Conclusion
Yes, investment in private builders' projects is safe if you choose the right project and the right builder. For this, proper research is required, which will help you in making a successful property deal.
Contact us for further assistance.
Please contact Universal Property Network For More Information click here or visit our youtube channel further assistance