Best Precincts of 250 Sq. Yards for House Construction in Bahria Town Karachi
by UPN
August 25, 2020
0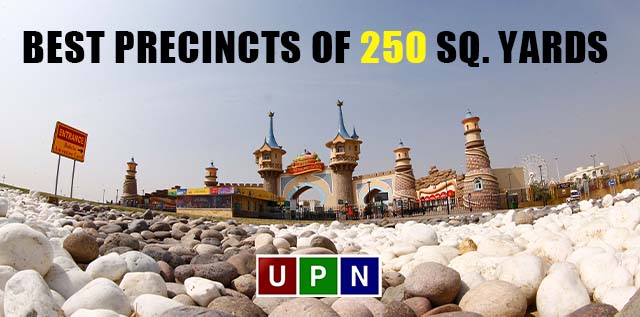 Bahria Town Karachi offers the best plots for sale with a chance to elevate your living standards and earn huge profits. This society has immense gain popularity for its international standard development and advanced facilities. The plots of various sizes are available, which are ideal for constructing your dream home. However, most of the buyers prefer to buy the best 250 sq yards plots in Bahria Town Karachi.  Almost all the precincts with 250 sq yards plots are attractive. But, in this latest write-up, we will update you with the details of the best and ready precincts for your house construction. So, please keep reading to find out more!
Precinct 1
250 sq yards plots for sale in Precinct 1 are ideal for house construction. It's a beautifully developed precinct where numbers of families are living comfortably. This is the very first precinct of Bahria Town and lies close to the main entrance. All the advanced facilities like beautiful parks, nearby commercials, different food chains are located in it.
Moreover, the beautiful Masjid-e-Ashiq and an operational school is also a part of it. The plots of 250 sq yards are a little bit expensive because of the ideal location and available amenities.
The starting price of a 250 sq yards plot is 1 crore to 1.50 crores.
Precinct 6 and Precinct 8
Those looking to enjoy the best facilities of Bahria Town similar to Precinct 1 but are also searching for something affordable can choose Precinct 6 and Precinct 8. These precincts are located at the distance of around 4 to 5KM from Bahria Town's main entrance. Also, the well-developed Midway Commercials are lies in its proximity. Bahria Town Head Office along the famous Cine Gold Cinema is among its top attractions.
Construction of houses is started even private construction is very speedy. Easy approach and access to a functional school in Precinct 1 make them best for residence.
The average price of a 250 sq yards plots in Precinct 6 and Precinct 8 is 56 lacs to 80 lacs.
Precinct 16
Another good precinct to start the construction of your house just after buying is Precinct 16. This precinct is located on Main Jinnah Avenue and located in front of the Grand Jamia Mosque. Facilities available in Precinct 1, 6, and 8 are easily accessible from this precinct. Also, the area is reserved for the development of a park, school, masjid, and sports complex.
Moreover, a nursery is already operational in Precinct 16, so you can easily fulfill your hobby for a beautiful garden in your home.
The starting price of a 250 sq. yards plot in Precinct 16 is 48 lacs to 65 lacs. The variation in the plot prices is because of their location.
For more details, contact Universal Property Network!
Check out our site for more detail. Latest News