BTK Approves Ground +30 Floors Elevation on 4-Kanal Commercial Plots
by UPN
January 20, 2018
0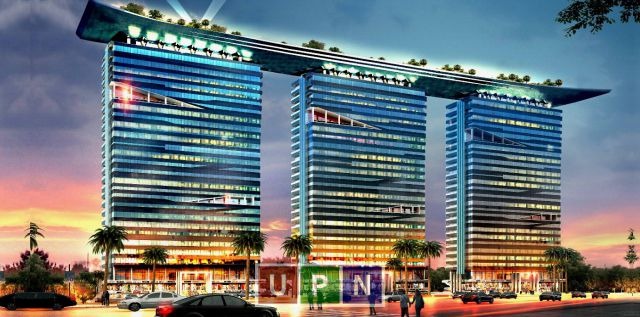 Bahria Town Karachi with enormous horizontal expansion is going through different stages of development in its subprojects. Featuring countless residential properties, it does offer a number of commercial prospects for business owners, builders and investors. With the passage of time, it comes up with new offers for both residential and commercial properties and facilitates buyers/investors in every possible manner. Now, Bahria Town Karachi wants to see commercial side at the new heights by approving ground +30 floors construction.
Ground +30 Elevation Approved on 2000 Sq yards Commercial
For all relevant stake holders including builders and investors, Bahria Town Karachi has approved ground plus 30 floors elevation on all 2000 sq yards commercial. Ground +20 floors elevation was already approved by Bahria Town Karachi for and now it has increased up to 30 floors which is wonderful indeed. Though 2000 sq yards commercial plots are less in number at Jinnah Avenue, surrounding Theme Park and at a couple of more locations, but high in terms of potential specially after this development.
Basement Allowed On Commercial Plots
Earlier, basement construction on all commercial plots was restricted anywhere in Bahria Town Karachi. But now basement is allowed in all commercial plots starting from the smallest 125sq yards category. 125 sq yards commercial plots at Midway commercial will also be having basements now.
Huge Opportunity for Investors and Builders
After ground +30 construction approval, investors and builders have enough margin to take full advantage of this opportunity provided by Bahria Town Karachi. A couple of mix-use buildings Park Vista Apartments and AR Heights in Bahria Town Karachi can be quoted here for vertical use of land. Other developer or investor groups should come up with high-rise commercial buildings for utilizing the potential of this huge market. It can be mixed-use commercial or residential complex to offer variety to the buyers with studio apartments or flats.
High-Rise Buildings, Bigger Opportunities
The high-rise, multiple-use buildings are beneficial for investors and people of that locality. Mostly such buildings house retail brands, food outlets, corporate offices, shops and apartment residency and come up with bigger opportunities from a single unit. After complete inhabitation, returns on investment increases for both sides.
For latest updates about Bahria Town Karachi, please keep visiting Universal Property Network (UPN).