DHA City Karachi – Commercial Plots Auction Announced
by UPN
January 18, 2018
0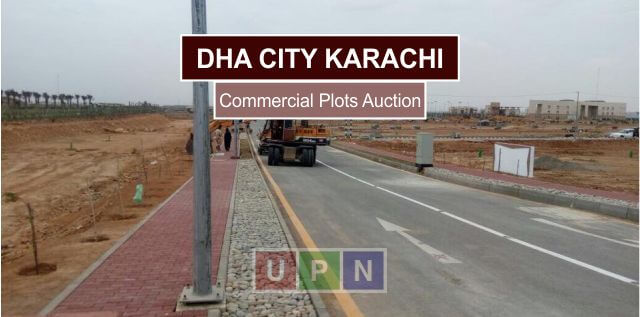 Auction of 200 Sq. Yard and 300 Sq. Yard commercial plots will soon be held in DHA City Karachi. These commercial/mix use plots are located in Sector 3 and sealed applications are invited from interested developers and builders for auction of these plots. An easy payment plan is also offered to buy these prime location plots, according to which plot price will be broken down into specific percentage, that will be payable in due course of time. DHA City Karachi will allow successful bidder to start construction on the commercial plot even before the full payment of plot price.
DHA City Karachi Commercial Plots
DHA City Karachi is offering 13 commercial plots in the said auction to interested buyers. Successful bidders will be allowed to build a Low Rise G+4 vertical commercial/mix use development on these plots. 2 of the offered plots are 200 Sq. Yard in size whereas 11 of them measure 300 Sq. Yard. DHA City Karachi administration has made it clear that only 1 plot will be allocated to 1 developer.4 of the total 13 plots are corner plots.
DHA City Karachi Bidding Procedure
All the interested buyers have been instructed by DHA City Karachi to submit their sealed financial bids by 20th January 2018. Application to become part of the bidding process must accompany Rs. 200,000 for 200 Sq. Yard plot and Rs. 300,000 for 300 Sq. yard. This amount will be adjusted in the plot price to be deposited by successful bidder. In case a bidder is not successful in the auction, this amount will be refunded.
Alongside bidding application, following documents by the bidding developers will also be submitted:
Bank Statements
Applicant's legal status (Individual / Corporate / Partnership)
CNIC Copy
Affidavit that firm is not block listed
Litigation History (if any) on stamp paper
DHA City Karachi Payment Plan & Development
Sale of commercial plots will be done through competitive bidding. Successful bidders shall deposit down payment within 3 weeks. The payment plan designed by DHA City Karachi for these commercial plots is as follow:
| | | |
| --- | --- | --- |
| Installment | Land Price | Payment Timeline |
| 1st Installment | 50% | Down Payment (Within 3 weeks of Bidding) |
| 2nd Installment | 25% | After 6 months of Down Payment |
| 3rd Installment | 25% | After 12 months of Down Payment |
An information letter will be issued by DHA City Karachito successful bidder on receipt of down payment. Developer/builder will have to submit a building plan as per DHA City By Laws within 2 months of receipt of Information letter. Approval from DHA City Karachi for the building plan is mandatory for commencement of construction process.
Builder will have to start construction within 6 months of receipt of information letter and complete it in 30 months timeframe. DHA City Karachi administration will monitor the development process to check the adherence by developer to construction timeline. Developer will be allowed to market its product after complete payment of plot to DHA.
DHA City Karachi Sector 3 development has just completed and auction of these new commercial plots in this sector offer a golden investment opportunity. For any further update regarding DHA City Karachi or any other real estate project, sign up for our free newsletter.