Central Park Apartments – Latest Development Updates
by UPN
May 7, 2020
0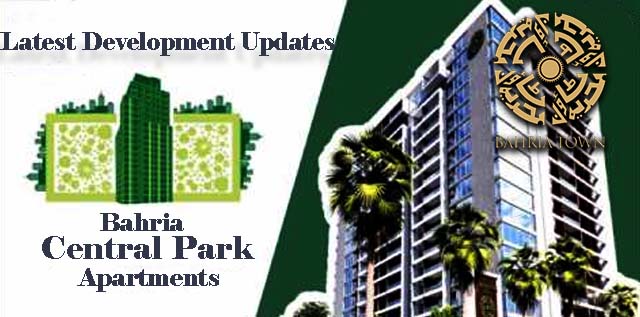 Bahria Town Karachi has recently launched another mega project Central Park Apartments in it. It is a beautifully-located project in Precinct 54. These Central Park Apartments project is featuring the luxurious 2 Bed and 4 Bed apartments. Covering a large area of land, these apartments are currently under-development phase. But the development work of this iconic project is started so far. Today, in this latest blog, we will update you about all the latest developments updates of Central Park Apartments.
So, let's explore these details together!
Latest Development Updates
As the name describes, this is a well-planned, Central Park facing apartment project located in Bahria Paradise. Ideally located in Precinct 54 in front of the 32 acres iconic Central Park, this is a high-rise buildings project.
The development work of Central Park Apartments Karachi is already started. It's a nine high-rise buildings project where the development work of fist-four buildings is progressing at the fastest pace.
Digging of land is already completed while heavy machinery is working day and night at the site. It is expected that Bahria Town management will make sure of the on-time delivery of this project.
Expected Completion Time of Bahria Central Park Apartments Karachi
These Central Park Apartments are available on a convenient payment plan of 4 years. Furthermore, Bahria management has promised to deliver this iconic apartment project before the completion of its installments.
So, the expected completion time of these Bahria Central Park Apartments is 3 years. We hope that this will be soon ready to live place in Bahria Town Karachi.
Expected Balloting Date
The balloting of Bahria Central Park Apartments was expected in the first quarter of 2020. But unfortunately, due to the ongoing coronavirus pandemic, the management has not yet announced any official date. However, there are some rumors that the balloting of these ideally located apartments will be held in the next 2, 3 months.
Why Should You Invest in Bahria Central Park Apartments
Bahria Town Karachi is now offering the best apartments for sale in it. These are smartly planned apartments located in Bahria Paradise and facing Central Park. The most attractive feature of this project that makes it the best choice to invest is affordable prices. Not only surprising rates but also the ease of installments is making it a top-class choice for investment. Investors looking to earn the best with a smart investment in Bahria Town Karachi can confidently choose this option. Moreover, families who are planning to shift in Bahria Town Karachi is the next 4 to 5 years can also buy this best property on installments.
Contact us for the latest prices and availability details!
Check out our site for more detail. Latest News