Commercial Investment in Bahria Town Karachi
by UPN
November 19, 2021
0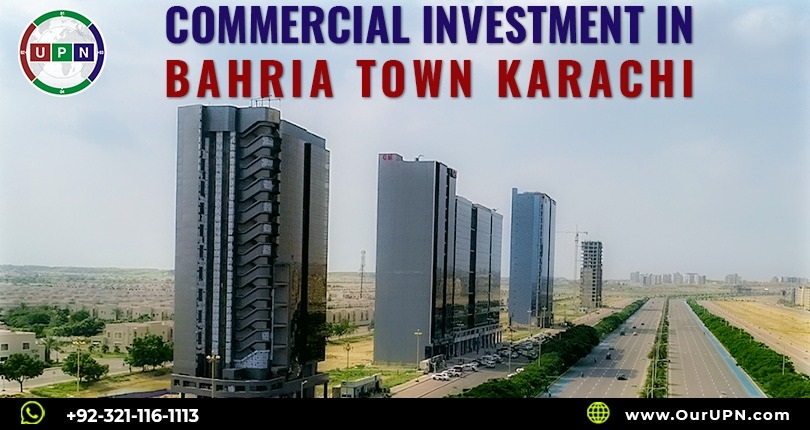 Do you want to make a commercial investment in Bahria Town Karachi? Do you desire to have the best commercial investment where the chance of capital growth is more? Also, looking for a reasonable price option? Then, get ready to enjoy the best real estate investment deal.
We Universal Property Network brings you the details of the ideal commercials in Bahria Town Karachi. These commercials are reasonable in terms of prices and attractive in location, sizes, surroundings, and amenities. So, let's explore the complete details:
Investment in Bahria Town Karachi – Affordable Commercial Plots
Bahria Town Karachi is full of options when it comes to buying commercial property in it. It offers you commercial plots, offices, shops, and showrooms. The advantages of these options are more. But at the same time, these options make an investor confused. However, you don't need it. You can easily buy the lowest prices and attractive commercial plots in Bahria Town Karachi available in Precinct 2. These perfect for investing commercials are:
Quaid Commercials
Iqbal Commercials
Offering 133 sq yards commercial plots, these projects are beautifully located in the surroundings of luxury villas.
Iqbal Commercials are located on Avenue 1, while Quaid Commercials are located on Avenue 2. Both these commercial projects lie close to the fully-occupied luxury villas of 152 sq yards and 200 sq yards.
Current Prices and Construction Permission
The launching prices of Quaid Commercials and Iqbal Commercials were around 2.50 crores. However, the latest prices are starting from 3.80 crores to 5 crores. The difference in the prices is because of the plot's location and nearby construction.
Moreover, Bahria Town allows the construction of ground + 6 floors on a single plot of 133 sq yards. Therefore, you can construct ground + 8 floors on two joint plots of 133 sq yards.
Development Update
These commercial projects have been attractive since their inception. However, their value and demands are increased over the last six months. Why? Because of the speedy construction and development of projects. Yes, a good number of high-rise projects are developing on Quaid Commercials and Iqbal Commercials. These commercials are, no doubt, the best investment in Bahria Town Karachi.
Investment in Bahria Town Karachi – Why?
The commercial plots for sale in Bahria Town Karachi Precinct 2 are good because of their lowest prices. Prime location and proximity to Main Jinnah Avenue. It has developed and inhabited surroundings. Moreover, Bahria Town allows the construction of commercial + residential projects means you can construct offices and shops on the lower floors and residences on the upper.
Buying in these commercials is very much beneficial as:
The demands for residential spaces are increasing day by day in Precinct 2. The availability of Quaid Villas and Iqbal Villas is limited. So, private builders are developing a large number of residential apartments at commercials nearby. Once some of these projects get ready, people will indeed move to them.
So, investment in Bahria Town Karachi commercial plots and constructing a multi-purpose project will benefit you a lot.
Other Good Commercial Options
The above-discussed commercials are the cheapest in the price's commercial plots. But if you are looking, some of the other best options for commercial investments are:
Jinnah Avenue Commercial Plots, Shops, and Offices
Midway Commercials Plots, Shops, and Offices
Heritage Commercials Properties
Hospital Commercials
Commercial Plots in Ali Block
Stadium Commercial Bahria Sports City
Loop Road Commercials Precinct 8
Liberty Commercial Properties
These are the top commercial projects where investment will provide you with the desired returns. So, book the best suitable option and contact us for safe and professional real estate consultancy services.
Please contact Universal Property Network For More Information click here or visit our youtube channel further assistance