Commercials in Bahria Town Karachi – Complete Details
by UPN
September 30, 2020
0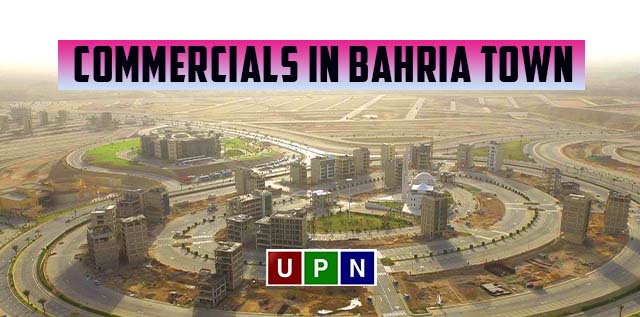 Commercials of Bahria Town Karachi feature beneficial properties that represent high investment returns. Undoubtedly, Bahria Town Karachi is a housing society designed to offer its residents the best living spaces. But at the same time, it is one of the ultimate and preferred choices to buy commercial property in Karachi. Investment in the commercials of Bahria Town Karachi is recommended to gain immense financial benefits. You can easily earn huge returns on investment while you can also earn high rental incomes without any delay.
Spanning over a large land area, Bahria Town Karachi is fabulously designed with several commercial projects. All of these projects offer various sizes of commercial plots so that you can choose confidently as per your requirements. So, if you are looking to buy any of the commercials in Bahria Town Karachi, please check the details below:
Jinnah Avenue Commercials
Jinnah Avenue Commercials is one of the most prime commercial locations in Karachi. Designed to be the hub of commercial activities in Bahria Town Karachi, it offers 500 sq yard commercial plots. All the commercials are located alongside the 18 lanes, 400 ft wide Jinnah Avenue, inspired by Sheikh Zayed Road Dubai.
These commercials are located close to society's main entrance and serve over 10 lac residents in Bahria Town Karachi.
Midway Commercials
Midway Commercials is one of the most lucrative projects to find the best commercial plots for sale. This project is located ideally at the confluence of Jinnah Avenue. The area is completely developed, and it already hosts several businesses and retail shops. Midway Commercials are designed on two sides A side and B side. These commercial sides will offer you the best commercials of 125 sq yards and 250 sq yards with the permission of a minimum of 6 floors on a small size of the plot.
Liberty Commercials
This is another appealing project of commercials where you can buy bigger sizes of plots at attractive rates. Liberty Commercials are located in the proximity of Bahria Town Head Office. These commercials are available in 266 sq yards sizes with construction permission of ground + 8 floors.
Theme Park Commercials
As the name depicts, these are the best commercials located in International Standard Theme Park Bahria Town Karachi's proximity. Theme Park Commercials offers the plots of 2200 sq yards to 3400 sq yards. It's a commercial project with a bigger plot size so that buyers can confidently establish mega projects on them. Also, the prices of these commercials are reasonable and have huge potential in them.
Day n Night Safari Commercials
Day n Night Safari is one of the great benchmarks of Bahria Town Karachi. This place is daily visited by hundreds of families in the day and also at night. The commercials for sale are located close to this Day n Night Safari and are best for investment. So, those looking to start a successful business want to construct plaza, or any other mega project can confidently choose them.
Quaid Commercials
These are recently launched commercials of 1.33 sq yards offered in the first three precincts of Bahria Town Karachi. Launched with the ease of installments, these are the highly-attractive and affordable commercials ever. Quaid Commercials are located in Precinct 1, Precinct 2, and Precinct 3 and are available at the total price of 2.50 crores. The payment plan for the commercials is not completed yet. If you are looking to buy a commercial plot on installments, you can easily consider this option.
Moreover, the ideal location makes these commercials the preferred choice ever.
Old Commercial
These commercials are located in Precinct 10A. Old commercials are designed with the commercial plots of 125 sq yards, 200 sq yards, and 2.50 sq yards. These commercials' prices are reasonable even it would be nothing wrong to say that these are the cheapest commercials for sale in Bahria Town Karachi. Possession of the plots is available. Electricity, sewerage, even all the development work is complete. Also, a shopping gallery is operational there. So, you can easily choose these plots to construct shops, commercial plaza, and any of the commercial building.
All of these commercials are the best to invest in Bahria Town Karachi. Additionally, there are several high-rise projects with the best commercial shops for sale. At the same time, various commercial projects are there, which you can also consider before investing. So, if you are looking for any details such as current prices, location, as well as for investment analysis, please share your concerns with us!
Check out our site for more detail. Latest News