Construction By-Laws in Bahria Town Karachi – Latest Details 2020
by UPN
April 27, 2020
0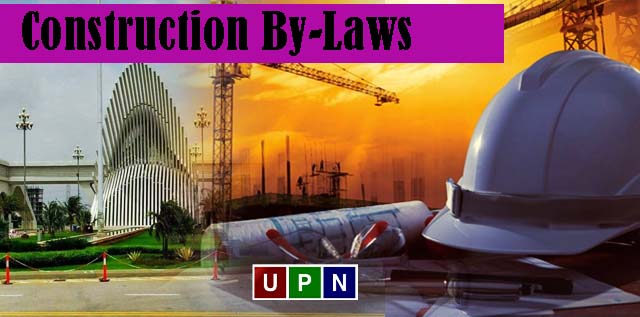 Bahria Town Karachi is the top-consider locality to buy the properties for sale in Karachi. It is a place with numerous options and opportunities in both residential and commercial plots. But once you buy your desired property, what will be the next? Next comes to start construction over it. But starting construction in Bahria Town Karachi is never a haywire subject. The society has set stricter guidelines and laws that make Bahria Town Karachi as premium as it is.
Bahria Town Karachi is a master-planned gated community. It is located far away from the hustle and bustle of the city. Still, it is the most attractive location to buy the best residential and commercial properties for sale. It is offering high standards of living with unmatched facilities and unique features.
Also, the brilliant town planning makes it a top place to live in Karachi. Featuring Pakistan's first international standard Theme Park and different central points, Bahria Town Karachi is a complete package to consider modern living. Its each and every precinct is so amazingly planned that no one remains in the dark. Bahria Town Karachi is a description of a perfect society not for its modern developments, roads, facilities only but also for its construction
Here we are going to share the details about the construction parameters set by Bahria Town Karachi.  But first, read this!
Why these Construction By-Laws of Bahria Town Karachi are Important?
Well, these laws and guidelines are set to ensure quality construction across Bahria Town Karachi. By fulfilling these guidelines and requirements, each homeowner as well as builder shows similarity, cohesion, and sense of uniformity across the society. This cohesion helps to make Bahria Town looks well-designed and pleasant from every street.
These guidelines help in ensuring high-quality construction and similar aesthetics in terms of the exteriors of the house. When it comes to the houses in Bahria Town Karachi, these laws promote a sense of coordination as well as branding. Also, these guidelines promote the best practices of construction.
Construction By-Laws in Bahria Town Karachi
Bahria Town Karachi is offering different sizes of residential plots for sale in it. These available plot sizes are 125 sq. yards, 250 sq. yards, 500 sq. yards, 1000 sq. yards and 2000 sq. yards. Once you find, your desired plot, next move to start construction over it.
The very first step is design approval. Yes, whether you have invested in a residential property or in a commercial one, you have to go first for its design approval.
The next step is to deposit the fee at the Boat Basin Branch or Bahria Town Highway Branch of United Bank Limited (UBL). This will be an advance payment and will remain valid for one year. Once you make this payment, you can then set an appointment with the Bahria Approved Architect. The architect will make changes in the design and will also assist you in developing improvements as per your requirements.
Next, the structural engineer registered with PEC will conduct the soil test and prepare structure drawings for you. But it all up to you that whether you may choose an architectural design by Bahria Town Design Wing or by an external architect.
If you are going to design it by Bahria Town Wing, then you will just need to fill a form. You will need to fill your details on it such as your name, contact number, plot number, precinct number, plot size, and specific requirements if any. Moreover, you can also specify the number of rooms on the first and ground floors among other details.
Design Approval Steps and Required Documents
Here the list of the required documents that is essential for design approval at Bahria Town Design Wing:
A copy of the property owner's CNIC
Bahria Town allotment letter
Copy of the possession letter
No Dues Certificate (NDC)
Payment receipt
Two sets of soil tests
If the property owner is enabling to collect the drawings and inspection cards, he can also appoint a person on his behalf. But the appointed person must have an authorization form signed by the allottee.
You will also need an affidavit of a PKR 100 stamp paper to collect these documents.  Furthermore, if your house design is approved then, a PEC registration letter for the structural engineer along with a structure stability certificate is also required.
Also, it is important to get approval for the exterior finished finalized from the Bahria Town Design Studio. To maintain the beauty and the aesthetics of the society, the Design Studio at Bahria Town Karachi has prohibited homeowners from doing the following things:
Having the air conditioners visible from the sides and the front and the outdoor units of the geyser.            Erecting any fences outside the house and the greenbelt
Using fiberglass shade in the front and side setbacks
House owners who are violating these exterior design guidelines will be fined PKR 50,000.
Homeowners who lose their drawings and require a duplicate will be also charged for the duplicate drawing set at PKR 5,000. Further, the charges for the transfer of drawing and documents are also the same PKR 5,000.
Construction Guidelines in Bahria Town Karachi
All property owners must have to follow the approved elevations. It includes gate design, boundary wall, finishing material, and UPVC or aluminum frames for windows.
The constructed building must be 30 feet tall.
Floor finishes level must be 2 feet high from the road level
The porch level must be 8 inches.
The minimum porch length is 12 feet and the area size must not exceed 380 sq. ft.
There is no permission to construct mumty.
The underground water tank size must be 6'x4'x4' for 125 sq. yard houses.
For a house of 250 sq. yards, the water tank size is 7'x5'x6' and 8'x5 'x 6' is the water tank size for 500 sq. yard houses. 8'x5'x7' is the water tank sizes for both 1000 and 2000 sq. yards homes in Bahria Town Karachi.
The overhead water tank sizes for 125 sq. yards house must be 5'x4'x4'. The size of the overhead water tank is 6'x5'x4' for 250 sq. yard homes. The overhead water tank size is 7'x5'x4' for 500 sq. yards houses and 7'x6'x4' for 1000 and 2000 sq. yard houses.
The covered area for 125 sq. yards homes should be 70 percent. It is 65 percent for a 250 sq. yards house and the covered area allowed for 500 sq. yards, 1000 sq. yards and 2000 sq. yards properties are 50 percent.
The boundary should be built up to the DPC (damp proof course) level.
Indeed, the storm-water drain must not be connected to the Bahria Town sewage system.
Other Important Building Laws
Another important building law is to contact the Color Consultant in Bahria Town Design Wing for exterior finishes. You can contact them after the completion of the plasterwork.
The property owner should take responsibility for any damage to neighboring houses especially in the construction of a 1 Kanal house basement.
Getting the inspection card signed by the site inspectors is extremely important. It will ensure a hassle-free issuance of a Completion Certificate. This card will be must signed after the completion of each stage. However, if you miss your card, you are required to provide an affidavit on PKR 100 stamp paper along with a fee of PKR 10,000.
Moreover, if you lose the original inspection card; you can get the duplicate one for PKR 30,000.
Note: Indeed, all these construction laws in Bahria Town Karachi along with the payment plans are subject to change. You must stay up to date while constructing your property for the least amount of friction in the process.
Stay Updated with Universal Property Network!