A Detailed Comparison of Kings Park Gwadar & Gwadar Central
by UPN
December 25, 2019
0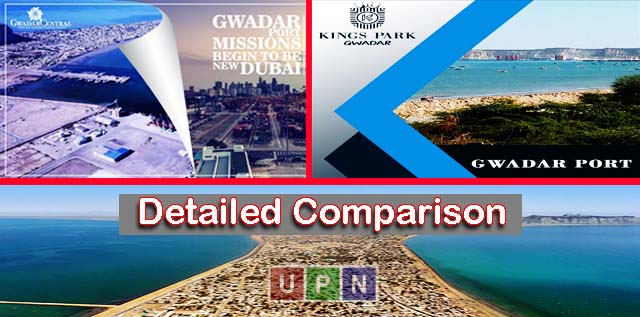 Gwadar becomes the center of attention for every investor. Much upscale housing and commercial projects are developing there that are highly attractive for profitable investment. If we further discuss the real estate of Gwadar, then definitely you will find a number of housing societies that offer huge investment potential in them. The availability of so many options mostly confuses the end-users as well as investors. So today, in this latest blog, we will compare the two most popular and highly attractive housing societies Kings Park Gwadar & Gwadar Central together.
We will discuss the details of their developers, the good points and the bad points of the societies, current development status, prices as well as the location of the projects as well.
So, let's explore all these details one by one!
Developers of Kings Park Gwadar & Gwadar Central
Knowing the details of the developers of any society before investing in it, plays a role of the backbone. The society Kings Park Gwadar is developed by Kaneez Developers. They are maintaining a good reputation in the real estate market. Some previous famous projects of Kaneez Developers are Bilal Garden Gujranwala, Kings Mall Gujranwala, as well as also worked in City Housing.
However, Gwadar Central is the project of New Life Developers. There are two partners in this firm. Both are working brilliantly and holding a good name in the real estate market of Pakistan.
Location of Kings Park Gwadar & Gwadar Central
The location of society matters a lot in making a wise decision of investment. So, here we will discuss the location of both societies.
 Gwadar Central is ideally located in the center of Gwadar. It is the only project which is designed at such a prime location that is surrounded between three main arteries.
Jinnah Avenue the main commercial hub of Gwadar is only 1 Km away from Gwadar Central, and the Industrial zone is about 2 km.
Zero-point & Gwadar Institute of technology are located at the drive of 3 km to 4 Km. and at the same time, the Chinese Duty-free zone is just 8 km away from this grand luxurious society.
Moreover, Kings Park Gwadar is located on Main Makran Coastal Highway on Gwadar Zero Point. This society is easily accessible from Rakshan Avenue and Buleda Avenue. Globiz Avenue Phase 4 & Naval Anchorage is located closes to it. Turbat University, Gwadar International Airport, Balochistan Secretariat and Balochistan Sports Complex are located at a distance of 3 to 4 Km from Kings Park Gwadar.

Approval from Authorities
Kings Park Gwadar is beautifully spanning over a land of 129 acres. The society is completely approved by GDA and holding a NOC of A Category.
Same in the case of Gwadar Central, the society is covering an area of 117 acres. This is also an approved project by GDA with a NOC of A Category.
Development of Kings Park Gwadar & Gwadar Central
Kings Park Gwadar is a well-developed project in comparison to Gwadar Central. The work on the boundary wall, main gate, and Main Boulevard is already completed in Kings Park Gwadar.
However, the development of the boundary wall and the main gate is continued in Gwadar Central.
But the value-added point that Gwadar Central have is their contract with Habib Rafiq Group for the progress of development.
Prices & Payment Plans of Kings Park Gwadar & Gwadar Central
Kings Park Gwadar is offering residential plots of 5 Marla, 10 Marla, 1 Kanal, and 2 Kanal. Commercial plots are available in 4 Marla and 8 Marla sizes. All these plots are available on the easy installment plan of 3 years. Booking can be made with a 20% down payment.
Moreover, the prices of properties in Gwadar Central are comparatively less than Kings Park Gwadar. For example, the price of 5 Marla in Kings Park Gwadar is 11.50 lacs but here Gwadar Central is offering the same plot in 11 lacs. Here this society is offering all the plots on the easy installment plan of 2 years. Booking can be made with a 20% down payment.
The best thing, especially for overseas clients, is that they do not need to appear physically to make any booking.
In Conclusion:
Both societies are ideally located and well-planned. They both are holding A Category NOC and the prices of plots are reasonable. So, we recommend you to invest in these societies to earn the best in the future.
 Stay connected to Universal Property Network!